ART & LITERATURE
'ART & SOUL
ENTERTAINMENT
TELEVISION
GARDEN LIFE
NATURE
FOOD TALK
CONSUMER, BEWARE!
FASHION
GLOBOSCOPE
BRIDGE
ULTA-PULTA
EARLIER FEATURE
TRAVEL
RELATIONSHIPS
DREAM THEME
TIME OFF
Amid mounting criticism and public protests, Facebook
top brass looks to improve settings and controls,
but concerns remain about privacy on the social
networking site, writes Vivek Atray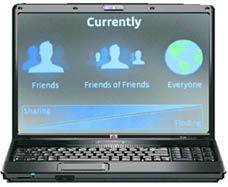 THE recent attacks on its new policy of relaxing privacy controls for data uploaded by users notwithstanding, Facebook remains a highly popular meeting ground for most of us.

Yahoo connects to FB in facelift
YaHOO Inc's latest facelift will include a Facebook touch-up. As part of the new changes rolling out, Yahoo will import personal updates from Facebook's social network for users who want a bridge between two of the world's most popular websites.


In dire straits
Manipur bears the brunt of prolonged road blockade. Maj-Gen G. G. Dwivedi (retd) recalls how, five years ago, the Army launched an operation to eliminate the militant threat, and ensured a safe passage to people travelling to the border state
IT was a bright sunny day. The lush green mountains beneath the canopy of the blue sky, and the lotus blooming in the 650-sq km Loktak Lake, would make anybody exclaim on the breathtaking scenic beauty of Manipur.

Love in the modern times
Shrinking living space and an ever-increasing population has given rise to an interesting category called "love hotels", where couples can share some private time. The enterprising Japanese have turned this amazing hospitality industry into a booming business, writes Marianne Johnson
IN the metros all over the world, accommodations are overcrowded, often with three generations (grandparents /parents/ grandchildren) staying in the same minuscule flat. This leaves a lot of young couples looking for places to spend some private moments.

Melody queens
M. L. Dhawan
A singer's voice lends fruition to the tune and lyrics and makes the song come alive for the listeners. It is the voice of the song that remains in memory of listeners. The world of singers has always been overwhelmingly male dominated, but female voices have made their mark and proved themselves equal to the task.

Courting controversies
From misrepresentation of facts to spreading utter falsehood, every controversy related to a film, whether manufactured or not, has an immediate snowballing effect. It raises questions and triggers debate, thus drawing attention to the film in question, writes Derek Bose
Filmmaker Rohan Sippy couldn't have had it better. He is currently directing Dum Maro Dum, a pot-boiler starring Abhishek Bachchan, Bipasha Basu and Prateik Babbar. Even before he could wrap up the shoot in Goa, the film had been making headlines across the country – for all the wrong reasons.

Action women
With many an actress performing daring stunts, the treacherous terrain no longer remains a male-dominated territory, writes Priyanka Sharma
CUTS and bruises are no bar. From Priyanka Chopra to Deepika Padukone to Aishwarya Rai, Bollywood actresses are willingly treading on the treacherous terrain as they get into action mode like their male co-stars.