PUNJAB
HARYANA
JAMMU & KASHMIR
HIMACHAL
REGIONAL BRIEFS
NATION
OPINIONS
LETTERS
BUSINESS
SPORTS
WORLD
Setback to trout farming
Fisheries Dept's move for tech staff rejected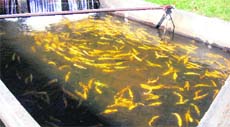 Shimla, June 22
Failure of the state government in providing technical staff for launching the Rs 2.11 crore trout processing plant at Patlikuhl in Kullu has resulted in the state losing out on the project which would have given a major boost to trout farming in the state.
This teacher talks her walk
Chandigarh, June 22
This primary schoolteacher in a nondescript village near Palampur always dreamt of doing something that would challenge her strength as a woman. Today, this 49-year-old mother of two children is an unpretentious possessor of a string of awards for a sport that she vouches has kept her physically fit, mentally alert as well as emotionally strong.