50 more chopper seats for Amarnath yatris
Srinagar, July 5
Shri Amarnathji Shrine Board (SASB) today allocated 50 more helicopter seats to the hospitality industry in the state for the ongoing Amarnath yatra. It was done with a view to giving a boost to tourism-related activities here with increased participation of local stakeholders.
Curfew reimposed in Valley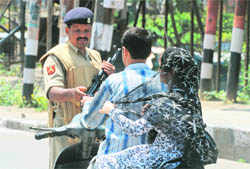 Srinagar, July 5
To foil the proposed march by the separatists to Anantnag, curfew restrictions were reimposed across the capital city and other major towns of the Valley today. The march to Anantnag, about 52 km south of here, was called by the hardline APHC faction led by Syed Ali Geelani to express solidarity with the people of the town where three youths allegedly fell to the bullets of the CRPF during clashes on Tuesday last.
A CRPF jawan stops a couple on a scooter at Lal Chowk in Srinagar on Monday. — AFP

Price rise: BJP, CPM hold protests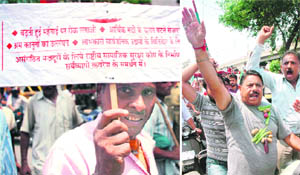 Jammu, July 5
Normal life was thrown out of gear due to the Bharat Bandh called by the BJP and other political parties of Jammu today. Most of the shops and business establishments remained closed and the movement of public transport was also affected due to the bandh call against the rise in the prices of essential commodities and petroleum products.

Activists of the CPM stage a protest against price rise in Jammu on Monday; and (right) BJP activists raise slogans. Tribune photo: Inderjeet Singh/PTI

Bandh disrupts admission process in colleges
Jammu, July 5
The Bharat bandh call given by the BJP against the price rise today disrupted the ongoing BA/BSc/BCom-I admission process in some city colleges. The admission process remained closed in Government Colleges for Women, Gandhi Nagar, and also in Government Colleges for Women, Parade. However, Maulana Azad Memorial College and the Sri Pratap Memorial Rajput College of Commerce witnessed marginal rush of admission seekers.
Govt urged to control price rise
Jammu, July 5
The Jammu West Assembly Movement (JWAM) has appealed to the state government to take effective steps to control rise in prices of essential commodities, which has broken the backbone of the common people of the state.
India can produce 10,000 MW geothermal power: Ansari
Leh, July 5
Hamid Ansari, Vice-President, who arrived in Leh yesterday on a three-day tour, said today that India could produce 10,000 MW of geothermal power. He stated this after inaugurating a three-day International Conference on Geothermal and other Energy Resources of Ladakh:Technological and Business Viability.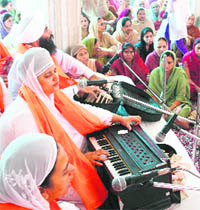 Ministers greet people on Gurparb
Srinagar, July 5
Minister for Revenue, Relief and Rehabilitation Raman Bhalla and Minister of State for PHE Nasir Aslam Wani paid obeisance at Gurdwara Chathipadshahi, Ranawari in Srinagar today.






Devotees pray on the occasion of the birth anniversary of Guru Hargobind at Gurdwara Chatti Pathshai at Talab Tillo in Jammu on Monday. Photo: Inderjeet Singh


Beating the Tension in Valley
Omar reaches out to people in Baramulla
Srinagar, July 5
To ease the ongoing tension in various parts of the Kashmir valley following the killing of three youths allegedly by the CRPF in Anantnag on June 29, Chief Minister Omar Abdullah has undertaken to meet and interact with people personally.
Most of private BEd colleges owned by politicians, says JJSF
Jammu, July 5
The Jammu Joint Students' Federation (JJSF) has expressed concern over the mushrooming growth of private BEd colleges in the state.
Equal HRA benefits sought for Kashmiri Pandit teachers
Jammu, July 5
Dr Agnishekhar, convener of the Panun Kashmir, today expressed concern over the denial of equitable HRA/CCA benefits to teachers belonging to the displaced community.
Arrested sadhu's link with terror groups not established
Jammu, July 5
After a suspicious-looking man was nabbed outside a temple at Purani Mandi on Saturday, the Special Operations Group (SOG) yesterday said no connection of the arrested individual with any militant group had been established as yet.
4 soldiers killed in mishap
Srinagar, July 5
Four Army soldiers were killed while 11 others injured when the vehicle they were travelling in fell into a gorge in Kupwara district today.
Trag is farm varsity VC
Srinagar, July 5
The Director Research, Sher-e-Kashmir University of Agricultural Sciences and Technology, Kashmir (SKUAST-K), Prof AR Trag, took the charge as Vice-Chancellor of the SKUAST-K from Prof Anwar Alam yesterday in compliance to a communication from the office of Chancellor, SKUAST-K, the Governor. — TNS