Farooq calls on Governor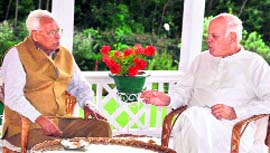 Srinagar, July 11
Union Minister for New and Renewable Energy Farooq Abdullah, met the Governor, NN Vohra, at Raj Bhavan today. Both discussed wide-ranging issues during their hour-long meeting, including the recent developments in the state, an official spokesman said.

Union Minister Farooq Abdullah meets Governor NN Vohra at Raj Bhawan in Srinagar on Sunday. Photo by writer
NC, Cong legislators meet; appeal for peace
Being seen as a prelude to the all-party meeting to be held today

Srinagar, July 11
Expressing sorrow and anguish over the recent incidents resulting in loss of lives and property in Kashmir, the National Conference, Congress Legislature Party meeting here today sought people's cooperation for restoration of peace and normalcy irrespective of their political affiliations.

Chief Minister Omar Abdullah addresses NC, Congress legislators during a @@meeting in Srinagar on Sunday. — PTI
Ongoing protests no deterrent to Amarnath yatris
Srinagar, July 11
Even as the Kashmir Valley has been witness to violent protests and curfew for a fortnight, there has been no impact on the ongoing Amarnath Yatra, as the same is going on smoothly without any disturbance.
NGO for appointment of Chief Information Commissioner
Jammu, July 11
A non-governmental organisation, Kshitij Foundation, has stressed upon the proper implementation of the Right to Information (RTI) Act in the state, at a function held here.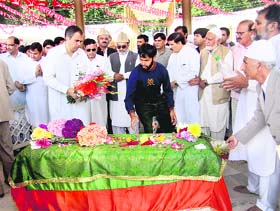 Chief Minister Omar Abdullah and NC chief Farooq Abdullah offer tributes at the grave of Madar-i- Meharban Akbar Jahan on her 10th death anniversary, on the outskirts of Srinagar on Sunday. Jahan was Farooq Abdullah's mother. — PTI
'Centre must firm stand on Kashmir'
Jammu, July 11
Members of the Panun Kashmir today expressed satisfaction that it was able to garner support in its favour on issues of community and national concern.
Patients' inflow declines
Srinagar, July 11
With the curfew in force here since Monday afternoon, the inflow of patients to major hospitals has declined drastically and surgeries are being delayed. However, medicines and other hospital facilities are adequate.
Economic Development Plan
9 projects identified for Udhampur
Udhamnpur, July 11
Final priorities for already identified projects under the Economic Opportunity Development Plan (EODP) for Udhampur town were fixed in a workshop that concluded here yesterday under the chairmanship of DHV Private Limited's project support consultant Tjeerd Koudenburg.
NSF alleges corruption in Education Dept
Jammu, July 11
Stressing upon a transparent transfer policy in the Department of School Education, the National Secular Forum (NSF) yesterday demanded a high-level inquiry into the recent adjustments in the postings of class XII lecturers.
Cross-Border Firing
BSF lodges protest with Pak Rangers
Jammu, July 11
The BSF today lodged a protest with Pak Rangers over unprovoked cross-border firing and ceasefire violations at a forward Khawara post along the International Border (IB) in Samba district.
Let ultra gunned down in Kishtwar
Jammu, July 11
After a fierce gunfight, security forces gunned down a Lashkar-e-Toiba (LeT) militant in Sarawan forests of Kishtwar district this afternoon. The slain ultra, as per the identity card recovered from his pocket, has been identified as Hazeefa, SSP Hasib Mughal told The Tribune.
Over 1,30,000 pay obeisance
Srinagar, July 11
As many as 1,30,141 yatris have so far paid darshan at the shrine of the Amarnath ice lingam.
Balwant Gargi's play 'Lekhak' staged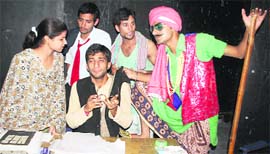 Jammu, July 11
In its weekly theatre programme, Natrang staged here today Hindi play 'Lekhak' written by Balwant Gargi and directed by Balwant Thakur. Today, was the 306th show of Sunday Theatre, which Natrang started in 2004.

A scene from the play 'Lekhak' being presented at Natrang's Sunday theatre in Jammu. A Tribune photograph
SMS ban to hit dancing star's chances
Jammu, July 11
The ongoing ban on SMS in the state has caused disappointment among the fans of Jammu boy Piyush Bhagat, a contestant of "Chak Dhoom Dhoom", a talent hunt show.
Newspapers to resume publication
Srinagar, July 11
After assurance from the state government, the newspapers published from Kashmir have decided to resume publication after suspending work for several days.