PUNJAB
HARYANA
JAMMU & KASHMIR
HIMACHAL
REGIONAL BRIEFS
NATION
OPINIONS
LETTERS
BUSINESS
SPORTS
WORLD
Mealy bug infests cotton crop in Hisar, Sirsa, Fatehabad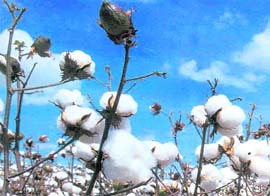 Hisar, July 12
Mealy bug has infested about 27 per cent of the cotton crop in Hisar, Sirsa, and Fatehabad districts. Entomologists of Haryana Agricultural University who have conducted a survey in the cotton belt of Haryana said the pest was present on weeds growing in water drains and field boundaries. It was likely to prey upon the cotton crop in the next few days.
State to promote technical education among girls
Reservation, cash incentives on cards
Panipat, July 12
With only 31 per cent girls in technical education institutes in the state, the Haryana government has decided to initiate some concrete steps so that the number of girls taking up subjects related to applied sciences can be increased.
State first to adopt UN's green project
July 9, 2010
Tuition fees for self-financing courses fixed
July 6, 2010
Police to get tough with hospitals
July 2, 2010
State's continuing shame
June 29, 2010
Health services ailing in state
June 25, 2010
State sees red over concentration of powers
June 22, 2010
Theme cities to come up along expressway
June 18, 2010
Blocking roads popular mode of protest in Sirsa
June 15, 2010
Hooda snubs faction-ridden party leaders
June 11, 2010
Panel to monitor power distribution reforms
June 8, 2010