BJP to organise workshop for councillors
Phagwara, July 12
The BJP's Punjab unit would organise a special workshop for all BJP councillors of the state on July 26 at Phagwara, said state BJP Vice-President Som Parkash, while addressing a meeting of the councillors and workers in Phagwara here today.
BSP to raise Vienna issue in Parliament
Jalandhar, July 12
Alleging that the conspiracy of shooting dead Sant Ramanand of Sachkhand Ballan had been hatched in Punjab, the Bahujan Samaj Party (BSP) demanded today that the Union Government should make efforts to get the accused extradited from Austria to try them in India.
CPM to launch mass campaign against price rise
Jalandhar, July 12
The CPM has decided to launch a mass mobilisation campaign against the spiraling price rise.
Land dispute: Villagers, baba claim ownership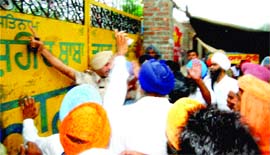 Amritsar, July 12
The district administration intervened to ease the tense situation which arose between residents of Vaan village and the followers of Baba Major Singh Vaan over a piece a land, just adjacent to Guru Ram Dass Memorial Charitable Hospital, here today.

A cop stops activists of the Majha Ex-Servicemen Human Rights Front and Sikh organisations to gain entry to the premises of Bunga Dera Shaheed Baba Tara Singh in Amritsar on Monday. Photo: Vishal Kumar
Pre-flood Arrangements
Jhuggies to be removed from banks
Hoshiarpur, July 12
While checking the pre-flood arrangements at local bhangi choe (seasonal rivulet), Deputy Commissioner Megh Raj and Hoshiarpur SSP Rakesh Aggarwal caught five persons with their tractor-trailers, laden with sand, which was stolen from the choe.
Drug de-addiction seminar with a difference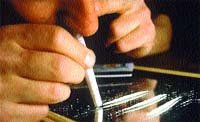 Gurdaspur, July 12
It was a drug de-addiction seminar with a difference. The organisers, led by Jagrup Singh Sekhwan, Chairman, Market Committee, Kahnuwan, first took three months to identify more than 250 hardcore drug addicts in and around Kahnuwan. After classifying them in various categories and taking the help of physicians, all 250 of them, cleansed of their previous sins, were made to take an oath today that they would not touch drugs again in their lives.
Delay in VAT refunds
Businessmen serve ultimatum to govt
Jalandhar, July 12
Businessmen today served an ultimatum of 15 days to the SAD-BJP government to fulfil their demand of ensuring prompt VAT refunds, otherwise they would be left with no option but to intensify their agitation, including gherao of ministers.
Can't remain ignorant on population explosion: Docs
Hoshiarpur, July 12
Under the aegis of United Nations Funds for Population Activities, the Health and Family Welfare Department organised a seminar on 'Ignorance-Population Explosion' here on the occasion of 24th World Population Day on Sunday. The seminar was attended by industrial workers and a number of NGOs.
Insurance firm asked to pay claim
Hoshiarpur, July 12
The Consumer Forum has accepted the complaint of Mohammad Sharif Mughal of Khadiala Mirzapur village and directed Birla Sun Life Insurance Company, Mumbai, to pay the claim amount of Rs 3,28,440 to the former with interest of 9 per cent per annum from the filing of the complaint till realisation along with litigation expenses of Rs 1000 within one month of the order.
Student dies as cycle, bus collide
Jalandhar, July 12
A teenaged student of ND Victor School of Jalandhar cantonment was killed while another seriously injured when their bicycle was hit by a DPS bus this morning.
20 quintals of poppy husk seized
Pathankot, July 12
The Sadar police arrested two smugglers, identified as Jahangir Ahmed and Shabir Ahmed, both residents of Soffian, Jammu and Kashmir, and seized 20.6 quintals of poppy husk from them here today.