Submit list of minority aid recipients: Guv
Mussoorie, July 18
Governor Margaret Alva taking cognisance of the news that appeared in The Tribune on July 2, titled "Minority Cell in charge seeks aid for medically ill", asked DX Johny, in charge, Minority Cell, Mussoorie, to submit the list of finance recipients under the Chief Minister's Relief Fund.


Alva bids farewell to ex-DGP Joshi
RSS fought for freedom of press during Emergency, says Koshiyari
Pitthoragarh, July 18
National Vice-President of the BJP Bhagat Singh Koshiyari today said the electronic media, which is blaming RSS workers for attacking a media establishment, should know that it was the RSS that defended the freedom of the press during the Emergency in 1975.
State to receive rain in next 48 hrs
Dehradun, July 18
Uttarakhand is likely to experience moderate to heavy rainfall in the next 48 hours.According to Dr Anand Sharma, Director, Dehradun Meteorological Centre, both the Garhwal and Kumaon regions of Uttarakhand would receive rain. He said there could also be heavy rainfall in some parts of Kumaon.
40 take part in Mr and Miss Doon contest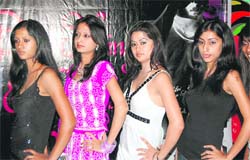 Dehradun, July 18
Twenty girls and 20 boys presented their skills in front of the judges for the ongoing talent hunt show Mr and Miss Doon here today. The result of the same will be declared in August during the grand finale.




Participants at a Mr and Miss Doon contest held in Dehradun on Sunday. A Tribune photograph

Ex-servicemen rue parties' apathy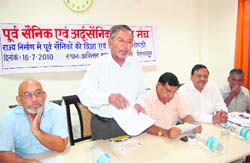 Dehradun, July 18
Members of the Purv Sainik and Ardhsainik Ekta Manch, Dehradun, rued the apathy of political parties and warned them that they would teach them a lesson in the 2012 elections. They were speaking at a seminar held at Official Transit Hostel here today.



SS Pangati, former IAS officer, addresses a seminar organised by ex-servicemen in Dehradun on Sunday. A Tribune photograph

Drive to trace out sub-standard public works
Pitthoragarh, July 18
After the incident of the collapsing of a newly built suspension bridge on the Gori river in the Madkot area on July 15, the district administration has now intensified the programme to trace the inferior quality of public works and make the officers concerned accountable.

Sahota on panel to review minority welfare schemes
Dehradun, July 18
Gurdeep Singh Sahota has been nominated member of the state-level committee meant to review various schemes of minority welfare under the 15-point programme implementation programme.Additional Chief Secretary, Social Welfare, SK Mattu gave this information here today. Apart from Sahota, Prabhkaran John from the Himalayan Torch Bearers, Mussoorie Road, Kuthal, and Rizwan Ahmed, resident of Adhowala, are other members of the committee nominated recently.
BJP anti-labourer, says Dhasmana
Dehradun, July 18
"The Uttarakhan4d BJP government is anti-labourer and intentionally ignoring their concerns," said Suryakant Dhasmana, senior state Congress leader.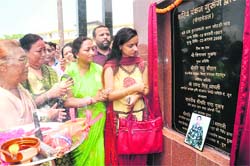 Martyr Pankaj Gurung Dwar inaugurated
Dehradun, July 18
Martyr Pankaj Gurung (Sena Medal) Dwar was inaugurated at Gram Kuthalwali at Johri village here today.



Madhu Chauhan, Chairperson of the Dehradun Zila Panchayat, inaugurates Shaheed Pankaj Gurung Gate at Johri village near Dehradun on Sunday. A Tribune photograph