Kill 'honour-killing' the Gandhian way
K.C.Yadav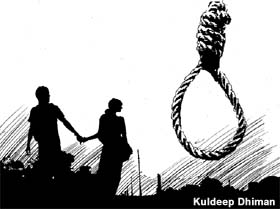 There should be, surely, no place for a thing like 'honour-killing' or any killing for that matter in our society. The crime is against the guiding principles of life that we have been following and living since time immemorial – Ahimsa satyavachanam sarva-bhutanu kampanam I shama danam yathashakti garhasyo dharma uttamah (non-violence, truth, kindness towards all living beings, restraint of senses and donation to the needy are the best virtues of a grihastha) (Mahabharata). The so-called 'honour killings' damn our history and deface our heritage.
There is a definite law that takes care of such crimes – murder (IPC, Section 302). But the problem with laws is that 'these are made', as wiseheads say, 'to exact punishment after a crime has been committed'. The government also have the same limitation. 'They do not say: 'You must do such and such a thing', says Gandhiji, 'but they say: 'If you do not do it, we will punish you' (Hind Swaraj). Contextually speaking, a law with preventive provisions and the concerned civil society's support are, by all means, need of the hour.
Our cosmopolitan elite and the media, in particular the electronic media,who should have, ordinarily, helped us in understanding both the matters, are, unfortunately, doing the opposite. Whenever I watch their 'public debates' on such issues on the electronic media the famous lines of Charles Churchill (not Wiston) invariably come to my mind : 'So loud each tongue/so empty was each head/So much they talked/so very little said'.
Worse, they not only go rhetoric, but also mislead. The question is 'honour killing'. They outfocus it. An egg is rotten, kill the hen – this is what they are saying. They condemn villages, their people, their institutions and culture. They hurl choicest abuses on them. For what ? The villages do not preach 'honour killings'. No dharmashastra on which their customs are based, no tradition that they respect approves of this ghastly thing. Fire sometimes burns our hands, hearths and homes, should we, and can we, vanish it from our life? It is careless handling of things that, cause accidents. 'Things' are, per se, useful.
But instead of advocating their proper use, the uninformed critics want every 'old' thing to go, yielding place to 'new'. It is none of their concerns that if our villages go, if our culture and civilization go, our Indianness will also go. What will remain with us ? 'A modern India' ! No, a copy of the West, which Gandhiji has asked us to dislike and detest, no matter whether it is the third rate or the first rate copy (Hind Swaraj).
So, shouldn't we, a question may arise, change with the times ? Gandhiji has also explained this point very aptly : 'We may utilize the new spirit (of modernism) that is born in us for purging ourselves of evils'. But we must not leave what is good and useful in our culture. In fact, 'it behoves every lover of India', he says, 'to cling to the old Indian civilization even as child clings to the mother's breast'.
Haryana has gone exactly the way Gandhiji has shown. It is a modern state now in every sense of the term. But, at the same time, it has not lost its soul – its customs and traditions, its history and culture. That's why the state is an eye-shore to the vested interest and its people and leadership are their favourite whipping horse. The truth, however, is that the state is not a bad but a brilliant case. It is not a disappointment but hope. It is modern, but not ready to give up its useful heritage.
This is exactly what the Father of the Nation would have liked our people to do. Mark his great words : 'It is a charge against India that her people are so uncivilized, ignorant and stolid, that it is not possible to induce them to adopt any changes. It is a charge really against our merit. What we have tested and found true on the anvil of experience, we dare not change. Many thrust their advice upon India, and she remains steady. This is her beauty : it is the sheet-anchor of our hope' (Hind Swaraj).
Why, one might ask, our cosmopolitan elite and the media still treat the villages and their culture in such a biased and contemptuous manner ? The answer is simple. This is age of Globalization. The world is heading towards becoming a 'globalized village' (rather bazaar). In the new world, the old rules like 'live and let other live' have changed or are changing fast. The new rules are : 'You are either with us or enemy. Our ancient 'little republics', the constitutionally favoured villages (Article 40 seems to do that), with their heavy baggage of customs and culture, history and heritage, seem to stand away from the bazaar. There are two options with them (read enemies) – yield or go. They buy none. Hence their criticism and scolding by the cosmopolitan elite and the media, who are a part of the bazaar in some way or other.
A recent edit of an English daily from the capital may be a good (?) example of how they handle problems and sensationalize and complicate them. It is on the question of 'honour killing'. But its title is : 'Dealing with Khaps: New law welcome, but not enough' (The Pioneer, June 24). There is no mention of the real subject ('honour-killing') in the headline. For a clearer picture, the edit has to be read in full. But for the sake of space, I take only its small bit, which will, I hope, be enough to bring home the truth, where an appeal is made to the Government to pass a new law right at once, without a moment's loss, otherwise the khap panchayats (of a handful of villages) will 'drag India (whole of it) back to the dark ages'. Are they really so powerful ? Is India so light ? Is dragging back the hands of time so easy ? The problem is of 'honour killing'. The edit's main concern seems to create more problems of bigger magnitude rather than to solve it.
The Government should see through the game or whatever it is, and, using Gandhiji's wisdom and way, understand the problem in all its dimensions and solve it with the statesman-like deftness, by bringing in an effective legislation and taking other necessary steps.
Himsa in any form is a sin and a crime, and when it is used against the weak, the helpless and one's own progeny and the dependent, it is worse than that. It must go.
The writer is a former Professor of History, Kurukshetra University, Haryana.