Crime Zone
Two get life term for murder
Kapurthala, July 23
District and Session's Judge MS Virdi today handed out life imprisonment to two migrants from Bihar in the Chander Mandal murder case. The court also slapped a penalty of Rs 10,000 on each of the culprits. Hailing from Bihar, Chander Mandal was staying along which his wife Sonia in Nangal Lobana village in Bholath.
Sonia developed extra marital affair with another migrant Rama Kant, who was also putting up in the same locality. When Chander Mandal objected to the illicit relationship, Sonia and Rama Kant hatched a plan to eliminate him. During investigations, it was found that Sonia and Rama Kant electrocuted Mandal and dumped his body adjacent to the house of Ajit Singh in Nangal Lubana village in September 2009. — TNS
Drugged tea-feeding robbers nabbed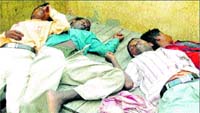 Unconscious labourers in the train. Photo: Ashok Kaura
Phillaur, July 23
Some alert rail passengers of the Katihar-bound Amarpali Express train nabbed three robbers after watching four Bihari migratory labourers lying unconscious in a general coach near Phillaur railway station. The passengers handed over the three robbers to the Government Railway Police.
The GRP staff rushed the unconscious labourers to the Phillaur Civil Hospital. According to reports, the labourers, identified as Dinkar, Kalu, Avtar and Rama, were going to their respective villages in Bihar when the robbers offered them tea. They fell unconscious immediately after taking the tea in the train. Some co-passengers saw them and got suspicious about the activities of the robbers.
The GRP is investigating the matter and waiting for the labourers to regain consciousness. However, the train was detained for more than 15 minutes and could proceed for its destination only after the completion of the procedure by the GRP. — OC
Powercom SDE in Vigilance net
Jalandhar, July 23
The local wing of the Punjab Vigilance Bureau (VB) nabbed a Subdivisional Engineer (SDE) of Powercom for allegedly accepting a bribe of Rs 10,000 from a resident of Chuharwali village here today.
Jalandhar VB SSP S.S. Grewal said Gurmeet Singh Minhas, posted at Adampur, had been demanding a bribe of Rs 30,000 from Kuljit Singh for the installation of a new electricity meter for a long time. Acting on a complaint filed by Kuljit Singh against the SDE, a team of the bureau led by Hoshiarpur-based Superintendent of Police Balwant Singh laid a trap and caught the suspect while accepting the bribe money Rs 10,000 at his office this morning, the SSP said.
Grewal claimed that even though the SDE was demanding Rs 30,000, the deal was settled at Rs 10,000. A case under provisions of the Prevention of Corruption Act has been registered against him. — TNS
3 arrested with liquor
Pathankot, July 23
The police today arrested Sudhir Kumar, Sunny and Chaman Lal and seized a huge quantity of illicit liquor from their possession. A case under sections 61, 1 and 14 of the Excise Act has been registered against them. Meanwhile, proclaimed offender Surinder Kumar of Uprali Mazithi, Nagrota Bhagwan (HP), was also arrested by the district police. — OC
Youth nabbed
Batala, July 23
A youth identified, as Balwinder Singh of Parowal village, was nabbed with 210 gm of intoxicant powder, at a naka laid on the bridge of Jangla village here. — OC