Economy to grow at 8.5 pc: PM's panel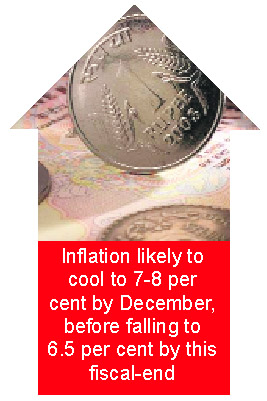 New Delhi, July 23
The Prime Minister's Economic Advisory Council today said the economy would expand by a faster than expected 8.5 per cent this fiscal, but cautioned that high inflation, low farm productivity and poor infrastructure could turn the story sour in the medium-term.
Describing inflation as a source of worry, the PMEAC today said containing surging prices, improving farm productivity and improving infrastructure is essential to put the country on a nine per cent growth on a sustainable basis.
Wholesale prices based inflation was 10.55 per cent in June, owing to higher fuel and food prices.
Releasing the Economic Outlook for 2010-11, PMEAC Chairman C Rangarajan said inflation at 10.55 per cent is more than double the comfort zone and the Reserve Bank should take either strong monetary action or "baby steps" to arrest it.
Rangarajan, however, said inflation would start easing by August-September and cool to 7-8 per cent by December before falling to 6.5 per cent by this fiscal end. This fall, he said, would come on the back of better farm sector output.
He said the agriculture sector is likely to grow by 4.5 per cent, industry 9.3 per cent and services by 8.5 per cent and these together would help push economic growth this fiscal to 8.5 per cent. It had earlier projected 8.2 per cent growth.
He said normal monsoon would help grow farm output, after two years of poor rains. Agriculture output grew 0.2 per cent last fiscal and 1.6 per cent the previous year.
However, overall low farm productivity could still come in the way of nine per cent growth projections in the long run, the PMEAC cautioned, while calling for improving water and soil management along with better farm practices and cultivation of a wider range of crops.
"We need to develop an integrated approach to these issues," Rangarajan said. The Council expected manufacturing segment in particular and industrial sector in general to continue with high growth momentum. — PTI