PUNJAB
HARYANA
JAMMU & KASHMIR
HIMACHAL
REGIONAL BRIEFS
NATION
OPINIONS
LETTERS
BUSINESS
SPORTS
WORLD
Saturday, July 24, 2010, Chandigarh, India
Updated at 3:00 am (IST)

CBI charges Shah, top cops with murder
Gujarat minister fails to turn up, faces arrest


Ahmedabad/New Delhi, July 23
The CBI today filed a chargesheet against Gujarat Minister of State for Home Amit Shah, a close aide of Narendra Modi, and 14 others in connection with the fake encounter of Sohrabuddin Sheikh and the "brutal killing" of his wife, Kausarbi.

New Delhi, July 23
India and the United States today signed a Counter Terrorism Initiative that would facilitate access to the data of criminals, terrorists, sharing of real-time intelligence and building up of security network alongside forensic laboratories.

Home Secretary GK Pillai and US Ambassador to India Timothy J Roemer after signing the pact in New Delhi on Friday. — PTI

CAST YOUR VOTE
Should Warren Anderson be extradited?

EDUCATION
JOBS & CAREERS
HEALTH & FITNESS
SCIENCE & TECHNOLOGY
REAL ESTATE

SPORTS & WELLNESS
US slaps curbs on Haqqani Network
The US Treasury Department has slapped sanctions on three key leaders and financiers of the Taliban and its affiliated group, the Pakistan-based Haqqani Network.
Economy to grow at 8.5 pc: PM's panel
New Delhi, July 23
The Prime Minister's Economic Advisory Council today said the economy would expand by a faster than expected 8.5 per cent this fiscal, but cautioned that high inflation, low farm productivity and poor infrastructure could turn the story sour in the medium-term.
Business page: PM's panel pegs exports at $216 bn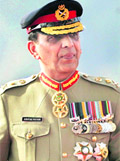 Kayani to stay, will ensure continuity: Gilani
The three-year extension given to Army chief Gen Ashfaq Parvez Kayani will ensure that the current leadership of the government, military and judiciary remains in office till 2013, Pakistan Prime Minister Yousuf Raza Gilani said here today.
Gen Ashfaq Parvez Kayani

Editorial: It's Kayani's Pak
UNION BUDGET 2010-11
RAILWAY BUDGET
2010-11

NDA 60 Glorious Years
1857 The First Challenge
E - Revolution 2005:
A Two-day IT conclave
Assembly Elections - 2005
Turbans
Chandigarh is 50
125 Years of The Tribune
India: The Tasks Ahead
India at Sixty
A Tribune Supplement
EARLIER FEATURES
On Sundays
On Saturdays
Sikh ultras may target Delhi Games
Chandigarh, July 23
In an alert that, if true, would test the preparedness of our security agencies, intelligence units of Punjab Police have warned that foreign-based Sikh militants were planning to return to the state to engage in sabotage activities with the help of their local conduits. And that the Commonwealth Games, being held in October, too, could be on their radar.


1,300 live cartridges, magazines seized


Twister leaves village in a maze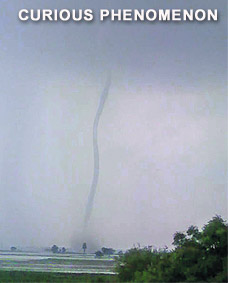 Fatehabad, July 23
Villagers working in their fields in Ahlisadar in Fatehabad were awestruck as they witnessed a phenomenon beyond their comprehension. They saw a "pipe" descending from the clouds, lifting water from flooded fields amid a strange whistling sound and the water so lifted sprinkled on neighbouring areas like a fountain.
Ahlisadar village in Haryana's Fatehabad district on Thursday witnessed a "pipe" descending from the clouds, lifting water from flooded fields and sprinkling it on neighbouring areas like a fountain

Experts say a never-before, tornado-type extreme low- pressure system caused water to be lifted from the flooded fields in the form of a jet

What a way to go!
July 23, 2010
Mayhem in Bihar House
July 22, 2010
With train driver dead, probe may yield little
July 21, 2010
63 dead in Bengal train collision
July 20, 2010
Maoists build a big army in Bastar
July 19, 2010
Kayani played the spoilsport
July 18, 2010
Day after, the war of words begins
July 17, 2010
India-Pak talks end in stalemate
July 16, 2010
Unified Command to battle Naxal menace
July 15, 2010