PUNJAB
HARYANA
JAMMU & KASHMIR
HIMACHAL
REGIONAL BRIEFS
NATION
OPINIONS
LETTERS
BUSINESS
SPORTS
WORLD
Every Wednesday & Saturday
Healthcare a casualty in rural Kashmir
Srinagar, July 27
Healthcare scenario in the rural areas is enough to raise the alarm. The poor functioning of health centres coupled with non-availability of medical facilities at grass-roots level make the situation worse.
Turmoil forces tourists, locals to travel in wee hours
Srinagar, July 27
To avoid the wrath of youths, who throw stones on those defying shutdowns, and ding-dong battles between stone-pelters, police and security forces that often turns the situation hostile, locals and tourists prefer to move in wee hours to reach their respective destinations.
Tawi bridges turn 'cool' hot spots
Jammu, July 27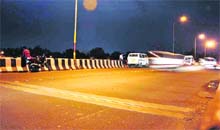 Bridges over the Tawi have been proving popular recreational points for locals as cool winds that blow there give them relief from the hot and humid weather.

Youngsters at a bridge on the Tawi in Jammu. Tribune photo: Anand Sharma

Turmoil costs state Rs 3500 cr
July 24, 2010
People want polluting brewery shifted
July 21, 2010
Turmoil leaves patients gasping
July 17, 2010
Shops in valley out of stock
July 14, 2010
Jammu dairies raise stink
July 10, 2010
People suffer as health staff play truant
July 7, 2010
Tenders not called in allotting works
July 3, 2010
At Nandni, vehicles jostle for space
June 30, 2010
At Nandni, vehicles jostle for space
June 30, 2010
Jammu grapples with power pangs
June 26, 2010