M A I N N E W S
Ready to talk with all Valley groups: PC
Doesn't rule out hand of a political party in recent violence
Tribune News Service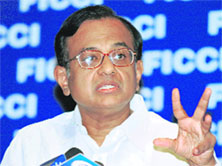 "I have been meeting those from different shades of opinion. Prime Minister Manmohan Singh has said the government is ready to talk to different groups. What is the harm in meeting our own people? — P Chidambaram, Home Minister

New Delhi, July 30
The Union Home Minister P Chidambaram today made it clear that the government was willing to talk to all groups in Jammu and Kashmir.
"We're willing to talk to our own people," Chidambaram said while talking to reporters here after presenting his monthly report card.
The Home Minister said he favoured a quiet dialogue with all sections of opinion, all groups and political parties. He was replying to a question whether the Centre was willing to hold talks with separatists, including the Hurriyat Conference.
"Talking to our own people…what is the reservation? There is no reservation at all," said the Home Minister when asked if the Centre would be initiating a dialogue. Chidambaram said the Prime Minister has said that he favours talks with all groups, adding that even the Chief Minister (Omar Abdullah) has shown inclination to meet all groups.
The Home Minister said he has been continuously meeting leaders of different groups and political parties. "There has been some interruption in the process...but we are always prepared to meet anyone who is willing to meet us," he added.
Asked whether any political party was also involved in disrupting peace in the Valley, Chidambaram nodded in agreement and said "presumably".
The Home Minister said he didn't agree with the view that the separatists were calling the shots in the Valley. "I don't agree with the view. Yes, in Srinagar and some other towns, they have been able to mobilise support, urge people to indulge in stone throwing and press for shutdowns," he said.