PUNJAB
HARYANA
JAMMU & KASHMIR
HIMACHAL
REGIONAL BRIEFS
NATION
OPINIONS
LETTERS
BUSINESS
SPORTS
WORLD
Saturday, July 31, 2010, Chandigarh, India
Updated at 3:00 am (IST)

Ready to talk with all Valley groups: PC
Doesnít rule out hand of a political party in recent violence
New Delhi, July 30

The Union Home Minister P Chidambaram today made it clear that the government was willing to talk to all groups in Jammu and Kashmir.
Protesters hurl stones at the police in Srinagar on Friday. ó PTI

J&K page: Three killed, 80 hurt in Kashmir clashes
CAST YOUR VOTE
Should Warren Anderson be extradited?

EDUCATION
JOBS & CAREERS
HEALTH & FITNESS
SCIENCE & TECHNOLOGY
REAL ESTATE
SPORTS & WELLNESS
TRS sweeps Telangana bypoll
Bags 11 out of 12 seats, ally BJP gets one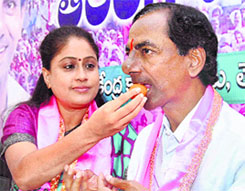 Hyderabad, July 30
The voters of Telangana region in Andhra Pradesh have delivered an unambiguous verdict in favour of the statehood cause.
TRS chief Chandrashekhar Rao being offered sweets by party MP Vijayashanthi in Hyderabad on Friday. ó PTI

In 32 months, Punjab distilleries evaded Rs 321 crore stamp duty
Chandigarh, July 30
Punjabís distilleries are once again in the news. This time, for evading Rs 321 crore in stamp duty over the last 32 months.
Five CRPF men killed, 44 hurt in blast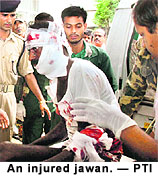 Guwahati, July 30
Five personnel from the Central Reserve Police Force (CRPF) were killed and 44 others injured when militants from the banned United Liberation Front of Assam (ULFA) detonated a blast targeting a bus carrying CRPF men along the road at Bhalukdubi inside Salbari Reserve Forest in Goalpara district of western Assam this morning.
(Details on Nation page)

UNION BUDGET 2010-11
RAILWAY BUDGET
2010-11

NDA 60 Glorious Years
1857 The First Challenge
E - Revolution 2005:
A Two-day IT conclave
Assembly Elections - 2005
Turbans
Chandigarh is 50
125 Years of The Tribune
India: The Tasks Ahead
India at Sixty
A Tribune Supplement
EARLIER FEATURES
On Sundays
On Saturdays
Pakistanis dread India more than Taliban: Poll
Washington, July 30
Though terror groups continue to strike in their country, a majority of Pakistanis still consider India as a major threat, view US as an enemy and are far less concerned about Taliban and Al-Qaida.
Cameronís Pak remarks
ISI chief cancels UK visit
ISI chief Lt Gen Ahmed Shuja Pasha has cancelled his UK visit ostensibly in protest against Prime Minister David Cameronís remarks about Pakistanís role in war against terrorism, private TV channel Geo News reported amid calls from politicians and the media that President Asif Ali Zardari should also drop plans for planned visit to the UK.
(Details on World page)

Obama to address Indian Parliament
New Delhi, July 30


US President Barack Obama will address the Indian Parliament during his November visit, an honour that his predecessor George W Bush could not have. As per sources, President Obama would address MPs from both Houses at the Central Hall of Parliament on November 9. Due to this, the Winter Session might also have to be advanced.
Punjab terrorists reveal skills acquired in Pak
Chandigarh, July 30


Pakistan is now training terrorists to assemble bombs with material available easily in the market. This was revealed in the course of interrogation of terrorists arrested recently in Punjab.
Make the border more secure, pleads Punjab
July 30, 2010

British PM ticks off Pak on terror export
July 29, 2010
Showdown over price rise
July 28, 2010
MPs panel sees police hand
July 27, 2010
Shah surrenders before CBI
July 26, 2010
PM banks on monsoon to halve inflation
July 25, 2010
CBI charges Shah, top cops with murder
July 24, 2010
What a way to go!
July 23, 2010
Mayhem in Bihar House
July 22, 2010
With train driver dead, probe may yield little
July 21, 2010