Kanwariyas find a friend in mela police
Haridwar, July 30
The concept of "Mitr Police" as publicised by the Uttarakhand Police Department seems to be fitting perfectly in Haridwar as the state police personnel don the duty as the Kanwar police or mela police. Though the state police has been embroiled in controversies, in the Kanwar season so far the state police behaviour and its friendly attitude has evoked praise.
Leopard sighted on IMA campus
Dehradun, July 30
A leopard has been sighted inside Indian Military Academy (IMA) campus here.
State's first disabled friendly ATM opens in city
Dehradun, July 30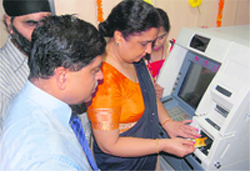 Now, visually challenged clients too will be able to withdraw cash from an ATM. Designed keeping in mind their unique needs, the ATM, set up by Punjab National Bank (PNB), was inaugurated at the National Institute for the Visually Handicapped (NIVH) today.



Anuradha Mohit, Director, National Institute of Visually Handicapped (NIVH), inaugurates the first biometric ATM installed by Punjab National Bank at the institute on Friday. A Tribune photograph

Vishal Mega Mart sealed for flouting rules
Dehradun, July 30

Continuing with its campaign against commercial establishment found flouting Mussoorie Dehradun Development Authority's (MDDA) norms, a team of officials today sealed Vishal Mega Mart on the Rajpur Road.







Vishal Mega Mart being sealed by MDDA officials in Dehradun on Friday. A Tribune photograph

Student protest at SMJN College hits admission process
Union forces closure of college, seeks quota in seats for itself
Haridwar, July 30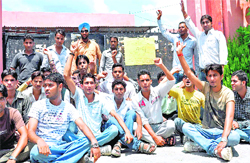 The atmosphere at the city's premier college Shravannath Math Jawaharlal Nehru College (SMJN) is quite tense these days with both major students' outfits - the Akhil Bharatiya Vidyarthi Parishad (ABVP) and National Student Union of India (NSUI) - at loggerheads over the closure of the college on the admission quota issue.


SMJN College students hold a protest after forcing the closure of the college in Haridwar on Friday. A Tribune photograph

ICFAI bids farewell to students
Dehradun, July 30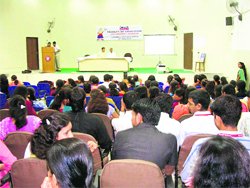 The ICFAI University's Faculty of Education bade au revoir to its 4th batch of students at an emotionally charged farewell organised at the College auditorium here today.









The farewell function for BEd students in progress at ICFAI University in Dehradun on Friday.

Membership drive of NSUI, Youth Cong continues
Mussoorie, July 30
Acting on the direction and vision of national in charge, National Students Union of India (NSUI) and Youth Congress (YC), Rahul Gandhi, who has set out to achieve the mission of ending the nomination culture and putting in place a democratic process to elect office-bearers all over the country, a press conference was held in a hotel at Mussoorie yesterday to explain the intricacies of the whole election process and membership drive being carried out in the Youth Congress in Uttarakhand. A Congress membership form was also launched on the occasion.
Teachers not joining duty in interior areas may get notices
Nainital, July 30
The district administration is planning to serve notice on those teachers who are not joining duty in the interior areas despite being promoted.
9-week children's literature fest kicks off
Eminent personalities like Anushka Ravishankar, Roopa Pai, Mahmood Farooqui and Advaita Kala will address sessions at the Ghummakkad Narain festival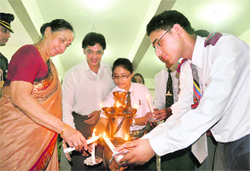 Dehradun, July 31
"Books leave an indelible impact on the minds of children and help groom their personality," said Uttarakhand Governor Margaret Alva while inaugurating Ghummakkad Narain - The Travelling Children's Literature Festival here today.




Uttarakhand Governor Margaret Alva inaugurates Ghummakkad Narain, a travelling children's literature festival, in Dehradun on Friday. A Tribune photo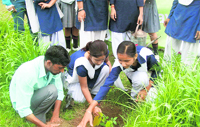 Students pledge to plant trees
Haridwar, July 30
In order to fight global warming and to generate awareness among school students, a month-long awareness drive is being launched by iCARE in the city.


Schoolchildren plant saplings in KV BHEL in Haridwar on Friday. Tribune photo: Rameshwar Gaur

Himveers, ITBP jawans plant 5,000 saplings
Mussoorie, July 30
More than 5,000 saplings were planted by Himveers and officials of the Indo-Tibetan Border Police (ITBP), in association with the Forest Department at Combat Wing (Stella Estate), under the programme plantation week that began on Wednesday.
Rakesh's brace powers City Young's win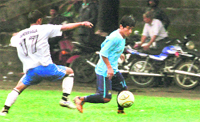 Dehradun, July 30
By scoring two goals Rakesh ensured the 4-0 triumph of City Young against Sunderwala in the Nemi Dass District Super League played on the Pavilion Ground here today.



Players vie for the ball at a match of the Nemi Dass District Super League in Dehradun on Friday.

SGRR Patelnagar, Bindal in summit clash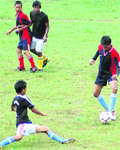 Dehradun, July 30
SGRR Bindal and SGRR Patelnagar won their respective semifinals today to face each other in the final clash of the SGRR Sahodaya Inter School Tournament to be played tomorrow.






A match in the SGRR Sahodaya Inter-School Tournament in progress in Dehradun on Friday.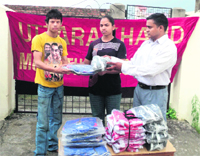 Muay Thai players get kits
Dehradun, July 30
The Uttarakhand Muay Thai Association gave away sports shoes and tracksuits to Muay Thai national players of the state at the Kanwali GMS Road situated training centre.





Uttarakhand Muai Thai players being given tracksuits at a function in Dehradun on Friday.