Mining ban in Haridwar hits GMVN revenue
Seema Sharma
Tribune News Service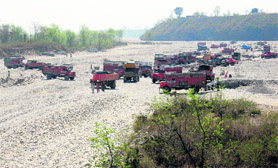 Mining by the GMVN on the Song riverbed near Dehradun. A file picture

Dehradun, July 29
Absorbed in mind-boggling sessions to find out ways to make revenue out of its loss-making tourist rest houses across the state, the much-tattered Garhwal Mandal Vikas Nigam (GMVN) has been dealt with another blow by the temporary ban on mining in the Haridwar region, the biggest region of mining in the state, for two months due to the rainy season. It certainly does not augur well for the financial well-being of the GMVN which is facing another crisis of steep decline of tourists for Chardham Yatra, again due to the rainy season and landslides.
UK Kabadwal, General Manager, GMVN, said mining was the biggest source of revenue for the Nigam. And after mining was banned in Dehradun by the High Court, which meant a loss of an annual revenue of Rs 22 crore, from June last year and now Haridwar, too, closed down which earned approximately Rs 80 lakh a month, it was a double blow to the GMVN.
Additional General Manager and Mining In Charge CS Negi says, "Last year mining was closed over the Ganga in the end of July in Haridwar, but this year it was preponed from the very beginning of July till the full month of September".

Negi found the intermittent ban unnecessary. "We mainly do mining on Mohammadpur and Sukro. Since Mohammadpur Power House, where most of the sand gets deposited, is regulated by the Irrigation Department mechanically, so there is no logic in banning mining, on this site at least. Other areas are not quite important, where very little mining is done, for instance at Solani in Roorkie, Bhagwanpur, Kota Muradnagar, Daluwala in Haridwar are small patches".
There is very little the GMVN can do to revoke the periodic ban in Haridwar, but for the one imposed in Dehradun it is bracing up itself for a big reprisal.
Negi further says, "We are going to put our counterpoint before the High Court by placing the notification dated September 14, 2006, which says that for wining sand, gravel, boulder (minor mineral) on the riverbeds, prior approval of the Central government is not needed. It is also marked in the Act that prohibition on mining is likely to be imposed on new projects or activities or on the expansion or modernisation of the existing projects or activities based on their potential environmental inputs".
He says their case does not fall in any of these categories. "We had been carrying out mining on 82 riverbeds since 2001, which testifies for it being an old case where no ban can be imposed. Earlier, it was carried out by private people and mining mafia who gave only Rs 6.34 crore annual revenue to the state government in 1998-2000, but after the GMVN took it over, it rose to Rs 9 crore in the very first year and touched up to Rs 22 crore in 2009.
"It felt strange that the petitioner, who is a paanwala, is contesting this case bearing whopping expenses of fighting it in the High Court, which is suffice to corroborate the hands of mining mafia behind this ploy. The Nigam is hopeful of winning this case, which is near its fag end," he explains.
Negi also informs that as per the rule, for an area of 5 hectare, there is no need to take approval from the Environment Impact Assessment Authority (EIAA) for carrying out mining and Dehradun falls in it. It is for the mining area from 5-50 hectare, prior approval of the EIAA and MOEF and above-50 hectare, intervention of the Advisory Committee of the Supreme Court is required.
He also adds that since the mining trade has almost come to a nought in Uttarakhand, it is the region near Yamuna in Himachal, Hathini Kund and Bihari Garh in UP which has benefited immensely as traders and builders of the state are now dependent on it.
Manoj Kumar, DMC contractor, substantiates the astronomical difference in the cost as he says that the cost of sand and gravel, which used to cost him Rs 4,000 for a truck in Uttarakhand has spiralled up to Rs 12,000 when brought from UP.
The Nigam is groping for newer pastures for mining, but given to the topography of the state, very few locations have been sought, but those, too, are not very promising. "We have searched for mining potentials in Chamoli and Uttarkashi, but these are all little patches of 0.2 hectare each where we are churning revenue of Rs 10-12 lakh in Chamoli and Rs 70-80 lakh in Uttarkashi, annually. Srinagar in Tehri Garhwal is also on our radar.
"If Pala Menari and Bhairo-Ghati hydro projects get approval, then the revenue graph of mining will soar high in that part of the state".