Pool or Road!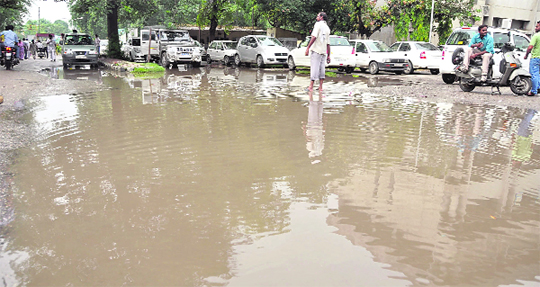 The road in front of Bachat Bhawan inside the mini secretariat is waterlogged just after brief showers in Ludhiana. Tribune photo: Himanshu Mahajan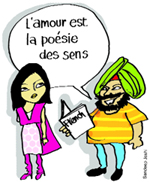 Students line up to learn the language of love
Ludhiana, July 29
"L'amour est la poésie des sens", the quote by French novelist and playwright Honoré de Balzac, which means "love is the poetry of senses," has become the expression of young French learners, taking lessons in the language at the department of communication, languages & international linkages at Punjab Agricultural University. Bidding adieu to their respective colleges, students interested in pursuing higher studies in foreign institutions are seizing an opportunity to get enrolled in the one-year certificate course at PAU.
Jilted nephew kills friend
Ludhiana, July 29
A youth allegedly killed his friend for stealing the affection of his "lover aunt". Twenty-year-old Buta Singh reportedly had illicit relations with his maternal aunt Renu, a widow. Buta Singh was working as a security guard.
IAF pilot killed in road accident
Mandi Ahmedgarh, July 29
A pilot of the Indian Air Force posted at Halwara Air Force Station, who had manoeuvred many flights, died after his car was hit by truck trailer near Lalton on the Pakhowal-Ludhinana road near here last night.
GLADA takes the easy way
Shuns acquisition, invites offers to buy land
Ludhiana, July 29
The new land purchase policy of the state government seems to have come handy for Greater Ludhiana Area Development Authority (GLADA) which has initiated steps to purchase land from single or joint owners as well as registered power of attorney holders through sealed bids for development of residential urban estates in five localities around the city.


Youth accuses cops of assault, abuse
Bid to avoid action, says police
Raikot, July 29
A youth of Mohhamad Pura village has accused policemen posted at the the Lohatbaddi police post of assault and handing out inhuman treatment.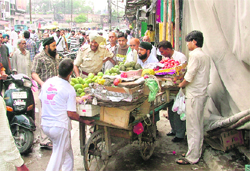 MC staff remove encroachments
Ludhiana, July 29
The tehbazari wing of the municipal corporation removed encroachments along various roads in zone A here today.





MC workers and policemen remove rehris in Field Ganj, Ludhiana, on Thursday.Photo: Inderjeet Verma
Free consultation for poor patients
Ludhiana, July 29
The Sibia Medical Centre announced free consultation and diagnostic facilities for economically poor patients during evenings on all weekdays.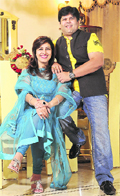 Destined to design
Ludhiana, July 29
Designer couple Monika and Kapil Arora could well have been leading the life of an average Delhi industrialist had it not been for a quirk of fate. They were destined to step into the world of fashion. The two will be in the city on July 30 to showcase their collection during "Wedding Asia". "During a trip to Goa, we just decided to start something creative and since Monika was always interested in designing, we started with our designer label," they say.


Monika and Kapil Arora. A Tribune photograph
Educationists condemn direct admissions
Ludhiana, July 29
In an attempt to secure their "business", small-time professional institutes in the region are encouraging direct admissions of students. However, educationists feel the practice tantamounts commercialisation of education.
Spring Dale school annex titles
Ludhiana, July 29
The students of Spring Dale Public School, Sherpur road, performed well to annex titles in the Ludhiana Inter-School Zonal Tournament held at different venues here yesterday.


10-month-old murder case cracked, one held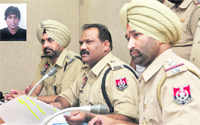 Ludhiana, July 29
The local police has cracked a 10-month-old murder case with the arrest of a Sherpur Kalan resident.




ADCP Sushil Kumar (centre) gives details of the murder case that was cracked in Ludhiana on Thursday. Inset: Accused Gurpreet Singh, alias Ganja. A Tribune photograph
2 women among 5 booked
Raikot, July 29
The Jhorran shooting case that left one injured has taken a twist as the accused, Beant Singh, has confessed to having shot the youth, Murli, who along with his other accomplices, had been blackmailing him for a year with regard to some objectionable photographs with a woman.
Akali leader's brother held with illicit liquor
Jagraon, July 29
An Excise Inspector yesterday intercepted an Alto owned by the general secretary of the Youth Akali Dal, Ludhiana, and being driven by his brother. As many as 72 bottles of country-made liquor were seized.
1 killed in road mishap
Jagraon, July 29
A boy was killed today when the driver of the car in which he was travelling lost control over the car and rammed it into a truck going in front of them near Lela Megh Singh village near here.
2 held for rape
Ludhiana, July 29
Two youths have been arrested for raping a minor girl. Arjun, alias Parsu, and Amarjeet, alias Amar, both residents of Nivada village, Uttar Pradesh, were arrested for luring, abducting and raping a 14-year-old girl on June 30. A case was registered under Sections 363, 366A, 376 and 120B, IPC, at the Focal Point police station against the two on July 10. — TNS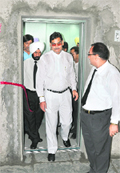 Courts complex gets 2 elevators
Ludhiana, July 29
In a much-needed relief to lawyers and visitors, two elevators were inaugurated in the eight-storey lawyers' chamber complex-II to the at the district courts here today.




Sessions Judge SP Bangarh (in white trousers) along with Civil Judge JPS Wehniwal (in white turban) come out of one of the two newly-inaugurated elevators at the lawyers' chamber complex-II at the district court in Ludhiana on Thursday. Photo: Inderjeet Verma
Shingaar blast accused in police remand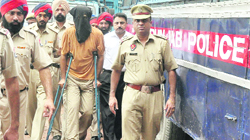 Ludhiana, July 29
The court of Judicial Magistrate Vikrant Kumar today remanded the alleged conspirator of Shingar Cinema blast case, Harminder Singh, in police custody till August 4.


Shingaar Cinema bomb blast accused Harminder Singh being produced in the district courts in Ludhiana on Thursday. A Tribune photograph


Doraha Public School eves net trophies
Ludhiana, July 29
Doraha Public School, Doraha, won titles in the girls' under-14 and 17 categories in the Ludhiana Zonal Level Inter-School Basketball Tournament organised by the education department at Doraha today.
BVM lads corner glory
Ludhiana, July 29
Bhartiya Vidya Mandir (BVM), Kitchlu Nagar branch, added another title to their kitty by registering a 1-0 victory over Sutlej Public School, Ludhiana, to come out triumphant in the Ludhiana Inter-Zonal Football Tournament for boys u-17 organised by the education department at Amrit Indo Canadian Academy, Ladiyan, near here, today.