DTTDC looks at pvt hotels to house CWG guests
Delhi is the only state whose tourism department does not have a single hotel or restaurant
New Delhi, July 29
It may surprise many that the Delhi Tourism and Transport Development Corporation (DTTDC) does not have a single hotel and, it is in an overdrive to secure private hotels or those belonging to the Indian Tourism Development Corporation (ITDC) to ensure accommodation for foreign guests who are expected to arrive to the national Capital for the Commonwealth Games.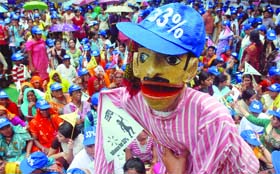 Women take part in a demonstration demanding the passage of the Women's Reservation Bill at Parliament Street in New Delhi on Thursday. Tribune photo: Manas Ranjan Bhui
Babus told to make Gurgaon greener before Games
Gurgaon, July 29
In view of the ensuing Commonwealth Games, the Haryana Financial commissioner-cum-principal secretary (forests), Keshni Anand Arora, today directed the top officials here to launch a plantation campaign and make Gurgaon greener by the Games.
CM tells ministers not to give any statement to media on CWG work
New Delhi, July 29
Chief Minister Sheila Dikshit in a Cabinet meeting today asked ministers not to give any statement in media about the Commonwealth Games projects. As regards to the mega-event, she also had the weekly progress reports of the ministers, sources said.
Foreign delegates satisfied with CWG security
New Delhi, July 29
A delegation of security officials from 31 countries participating in the Commonwealth Games today examined security arrangements at various Games-related sites, including Games Village and Jawaharlal Nehru Stadium, the main venue for the event.
Low carbon drive for Games
New Delhi, July 29
The organising committee of the Commonwealth Games (OC) and the United Nations Development Programme (UNDP) today launched a project on 'Low Carbon Campaign for Commonwealth Games 2010'.
Semester System
No more talks with students' union: VC
New Delhi, July 29
The vice-chancellor of Delhi University, Deepak Pental, today said that there was no need to consult the students' union on the semester system issue, as all consultations had already been done.
Jamia distance learning admissions from Aug 1
New Delhi, July 29
While admission to regular courses is drawing to a close at Jamia Millia Islamia University, there is still hope for those keen to study at the university. Admission to university's distance and open learning programme will begin soon.
Childless couple held for kidnapping child
Greater Noida, July 29
The police today rescued a three-month-old boy and arrested his neighbours for allegedly kidnapping him. The child was rescused from the Jaunpur area here. The kidnapping took place on Sunday. The parents of the child on Wednesday lodged a kidnapping report at the Surajpur police station.
Techie found stabbed on road
Greater Noida, July 29
A software engineer was yesterday found murdered near Parsvnath Apartment at the Kasna crossing. Till today evening, the police was clueless about his killers. "The night patrolling staff found a man lying dead along the Kasna –Jaypee Road around 200 feet away from Parsvnath crossing.
Threat to life real and not show, 69-yr-old riots witness tells court
New Delhi, July 29
A 1984 anti-Sikh riots victim, Jagdish Kaur, who lost five members of her family during the riots today denied before a Delhi court that she had demanded security cover to show that she had threat to her life.
SC reserves verdict in Mattoo rape case
New Delhi, July 29
The Supreme Court today reserved its judgment in a case relating to the rape and murder of Delhi University law student Priyadarshini Mattoo in 1996. Santosh Kumar Singh, son former IPS officer JP Singh, challenged the death sentence awarded to him by the Delhi High Court on October 27, 2006 by setting aside his acquittal by the trial court.
Man perishes as car catches fire
The car's interlocking system failed and the doors got jammed
New Delhi, July 29
A man died today after his CNG car caught fire in the middle of the road, the police said. The interlocking system inside the car turned out to be a reason behind the death of 51-year-old Delhi based businessman Gopal Sharma as the doors failed to open after his vehicle caught fire in the middle of the road at Punjabi Bagh.
Firing at moving bus, none hurt
Noida, July 29
Unknown miscreants in a Santro car last evening fired at an Uttar Pradesh Roadways bus near Chilla Regulator Bridge here. The incident took place around 8.45 pm. No one was injured in the firing.