CWG officials satisfied with medical preparedness
New Delhi, July 28
Amidst concerns of missing the deadline of August 31, the Delhi health department has received a pat from the inspection team of the Commonwealth Games Federation, which expressed satisfaction after reviewing the health arrangements at the CWG's designated health facility, G B Pant Hospital, today.
Revamp of colonies near Metro lines suggested
New Delhi, July 28
The municipal valuation committee (MVC) today submitted its report in the MCD standing committee meeting, suggesting to upgrade 168 colonies within 1km of Metro lines.
Kendriya Vihar residents thirst for water
Noida, July 28
The residents of Sector 82, Kendriya Vihar, have been facing water crisis for the last two weeks as the area is getting just half of the quantity of water supply.
Cops oppose Ghandy's charge
New Delhi, July 28
The Delhi police today contested before a Delhi court the charge levelled by politbureau member of the banned outfit Communist Party of India (Maoist) Kobad Ghandy that "the investigators had fabricated his disclosure statement by obtaining his signatures on blank sheets".
Walia unhappy with Yamuna Sports Complex work
New Delhi, July 28
The Delhi government today said that it is not satisfied with the progress of the Yamuna Sports Complex and it may exceed its August 31 deadline.
Jats threaten to disrupt Games
Seek quota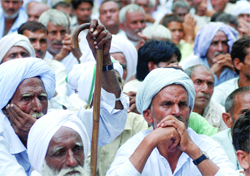 New Delhi, July 28
Demanding reservation in government jobs for their community, thousands of Jats from the national Capital and neighbouring states today held a protest at the Jantar Mantar and threatened to disrupt the Commonwealth Games if their demand was not met.



Jats take part in a rally near Parliament to demand OBC status for the community, in New Delhi on Wednesday. Tribune photo: Manas Ranjan Bhui
Cancellation of bail to ragging accused
We're happy: Aman's father
Gurgaon, July 28
Ragging victim Aman Kachroo's father, Dr Rajender Kachroo, a resident of Sector 23 here, has expressed happiness over the cancellation of bail granted to the students accused of ragging his son.
Pilot charged with forgery gets bail
New Delhi, July 28
A Delhi court today granted bail to a woman accused of forging the order sheet and signature of a judge hearing a case against her estranged husband.
Cop accused of sexual exploitation suspended
Ghaziabad, July 28
A police constable posted at Pilakhuwa has been suspended on the charge of sexual exploitation and an enquiry has been ordered against him.
2 illegal shops razed for landscaping
New Delhi, July 28
Government agencies today teamed up for a small demolition drive outside the Gol Gumbad monument here. Two shops encroaching landscaping space near the monument were demolished.
Gang of robbers busted
New Delhi, July 28
The crime branch of the Delhi police has unearthed a gang of robbers operating in an autorickshaw.
Fake notes gang busted, 3 held
New Delhi, July 28
With the arrest of three persons, the Delhi police has busted a gang of criminals allegedly involved in the circulation of fake currency notes in Delhi and the national capital region, the police said today
Youth caught for killing handicapped man
New Delhi, July 28
With the arrest of one Balbir Singh (21), the north district police has claimed to have solved the murder case of a handicapped person, Narender, who was hacked to death outside his house in the Sarai Rohilla area on Sunday night.
4 held for murder
New Delhi, July 28
With the arrest of four persons-- Naveen Kumar Gupta (26), Parveen Langda (25), Giasi (30) and Umesh (26), the police has solved a murder case in the Shahabad Dairy police station. The accused were arrested yesterday from sector-25 Rohini.
Rains likely in some areas
New Delhi, July 28
After rains lashed the Capital yesterday, Delhiites saw a hot and humid day today with the maximum temperature settling around 35 degrees Celsius, which is one degree above the average.