All 155 aboard Pak jet killed in crash


A video grab shows the wreckage of a commercial Pakistani passenger plane in hills near Islamabad on Wednesday. — Reuters
Islamabad, July 28
All 155 people aboard a Pakistani passenger plane were killed today when the ill-fated aircraft crashed into the Margalla Hills overlooking Islamabad in heavy rain amid poor visibility and turned into a ball of flames in the country's worst air disaster in recent times.
The Airbus A321 operated by private airline Airblue, which had 147 passengers and eight crew aboard, hit the Margalla Hills near Daman-e-Koh viewpoint at about 10 am local time and exploded into pieces.
"It saddens me to announce that (while) some intact bodies were showing signs of life, nobody has survived," Interior Minister Rehman Malik said.
Bodies were mostly mutilated and in pieces, he said, adding they could not be identified immediately. "It's a big tragedy. It's really a big tragedy," he said.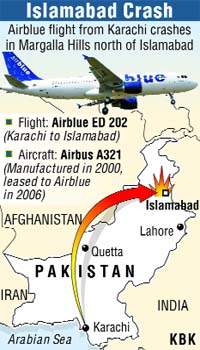 Malik said he had asked the Federal Investigation Agency to ascertain the details of all passengers and to look into the possibility whether the crash may have been caused by an act of sabotage or terrorism.
Earlier, Malik and Information Minister Qamar Zaman Kaira had said that rescuers had found some survivors.
Two Americans, five members of the same family and a newly married couple coming to Islamabad for their honeymoon were among passengers of the aircraft, which took off from Karachi at 7.50 am. Five children and 29 women were also on the aircraft.
The plane was about to land at Islamabad's Benazir Bhutto International Airport when it lost radio contact with the control tower and later crashed into the thickly-forested hills overlooking the capital city, officials said.
The wreckage fell into a deep ravine between two hills. Several hours after the crash, rescue workers and military personnel pulled out the bodies from the smoldering and burning wreckage that lay scattered over a thickly forested area in inaccessible hills shrouded by clouds and fog.
Officials said they believed the crash was caused by bad weather. However, the exact cause would be ascertained by an inquiry to be conducted by the Civil Aviation Authority, they said.
Officials and rescue workers said they were unable to find even a single body that was fully intact. The body parts were placed in bags that were tied with rope and removed from the crash site. Rescue workers said they had shouted out for possible survivors but received no response.
Airblue official Raheel Ahmed told reporters in Karachi that the aircraft's pilot, Pervez Iqbal Chaudhry, had 35 years of experience and had logged over 25,000 flying hours. The Airbus A321 was 10 years old and had been used by Airblue for the past four years, he said.
Local TV channels showed twisted metal parts hanging from trees and scattered across the ground. The crash occurred in an area that is not easily accessible as the Margalla Hills are covered by thick forests. — PTI