Notices issued to two managers
Sushil Manav
Tribune News Service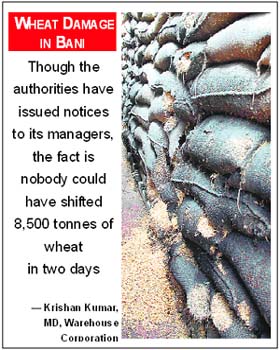 Sirsa, July 29
A blame game has begun between the district authorities and the Haryana State Warehousing Corporation over pinning responsibility for the loss of 1,70,000 bags of wheat costing Rs 11 crore in floods in a storehouse at Bani village in Sirsa, even as the corporation has served show-cause notices to its two managers.
Sources in the district authorities, pleading anonymity, said a patwari of the revenue department had warned corporation officials at Bani first on July 13 and again on July 14, on the possiblility of floods.
However, the corporation officials, the sources claimed, demanded this in writing, with the rider that the district authorities would be responsible for the transportation charges incurred to move the foodgrain to a safer place.
A senior officer of the revenue department called a manager of the corporation, asking him to lift the wheat bags. The authorities made a public announcement in Bani on July 14, asking people to evacuate, the sources maintained.
All villagers located in the vicinity of the corporation storehouse left with their belongings well in time before the floodwater reached the village on July 17, but for the corporation officials.
The officials panicked once the waters crossed Kariwala and began flowing towards Bani on July 16. By then it was too late.
Confirming the issuance of show-cause notices to district manager ML Verma, and manager RS Yadav, the Managing Director of the corporation, Krishan Kumar, said it was an error to blame his subordinates for the loss.
"Though the corporation has issued notices to its managers, the fact is none could have shifted 8,500 tonnes of wheat in two days. "Even if they had sufficient number of labourers and vehicles at their disposal, my officials could not have shifted more than 1,000 to 1,200 tonnes of wheat in two days," he maintained.
The District Manager refuted allegations that the authorities had warned them of the floods in time.
He claimed that he received a warning on July 16 and started shifting of foodgrain and fortification of the storehouse thereafter. Verma claimed he was able to shift 216 tonnes of wheat in one day.
Bani village was inundated following a breach on the right bank of the Ghaggar river on July 14.
The wheat stocks there have been under 10ft of water.
"We had warned both the Haryana Warehouse Corporation as well as Confed.
"While the latter managed to shift its goods in time, the corporation did not do so," CG Rajini Kaanthan, DC had alleged.
Krishan Kumar, had subsequently camped in Sirsa and refuted the allegations.
Like Punjab, Haryana has been stacking huge quantities of wheat and paddy on the plinths in the open.
In Ambala, as many as 500 bags of wheat were damaged in the FCI godown at Moonakpur.