Delivering strong social messages is the USP of short animation flicks being produced in the city
Mona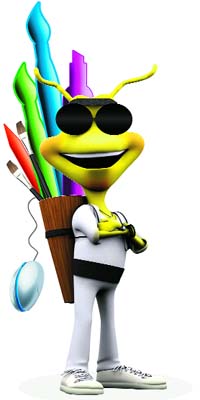 Cute ugly Shrek, smart Stuart Little or pompous Tom, each has won millions of hearts across the world. Animated characters strike a familiarity with people as much as real actors do, courtesy, the creator. With dime a dozen animation schools opening in out tricity, which offer courses in 2D and 3D, we check out what's our city producing.
Nanhi Chidiya is probably the first peg to start, for this three-minute film has already won many accolades. Screened at Mumbai International Film Festival in February this year, Nanhi Chidiya delivers a strong message as well. "We usually work on social issues and were wanting to do something on female foeticide for quite some time. When the story was ready (it's by Jaspal Bhatti) all fell in place," says Jasraj Singh Bhatti, who did storyboard, character design and direction for Nanhi Chidiya.
Another loveable character that Jasraj has designed is Filmi Keeda, the mascot for Mad Arts School. "Taking a clue from saying 'mere mein na vo keeda hai' we wanted to make our mascot a bug, but an endearing one. So we came up with 'Filmi Keeda', a bug who supports cool sunglasses and jives to music," says Jasraj.
Spreading social message is also what Sanjay Rai, a student at Ants Animation School-9, worked on. His 30-second animation Common Man leaves a message not to touch any unclaimed baggage. "I am pretty new to this field. So I picked up this 2D visual and played around," says the student who seeing a great potential in the field wants to set up his own production house. Sanjay along with his team is presently working on 3D animation that tells the story of two brothers - AM and PM - who control the world's time.
Puppies for Sale is the work of students from Frameboxx-34. With a motto 'I will ever stop', this five-minute film tells story of young Sammy, a lonely but strong-willed boy who takes a pledge to never accept defeat in life. "Our short clip has two characters — Rover and Sammy - and three puppies. Each one gets a name, character and is accordingly designed after considerable brainstorming," says Mukesh Verma, a student.
Saving wood is the message that students of Arena Animation Academy-17 want to give through their short film Gone With The Woods. Story of a cuddly bear and naughty rabbit, it strongly drives home the point that wood and animals should be saved.
"To have a unique story to tell is the most important step in animation," says Vineet Kapoor Joshi, chief mentor, Arena Animation Academy-17. Vineet is nowadays living in the world of Sheikh Chilli Ke Tilsmi Sapne, which he along with his team of students is working on.
On the animation scene, the industry is quite upbeat about the region. "Most of the work, even from Hollywood, is outsourced to India for here we have plenty of talent and workforce," says Sachin Bhatnagar, vice-president, New Media, Frameboxx.
"The only difference is that Hollywood has a huge budget while we are still opening to it," says Jasraj. However, India has an edge when it comes to the future, feels Jasraj, "India has rich mythology that can make for a great subject for animation," says Jasraj. "Also, animation and comedy go hand in hand. India and it's unique set of problems can lead to the most awesome comedy," he adds.
About the attempts at animation in India, Joshi says, "Applying the Bollywood frame to animation is the reason why some of the big attempts at animation did not succeed. One needs to think a step ahead and express something new to make most of the potential that animation offers."
mona@tribunemail.com