Left in the lurch
Single women in India number more than the population of Canada and should be looked after by the state
Nonika Singh
WHEN you think of a 'single woman', chances are you imagine an empowered, educated alpha female who has chosen to remain single. No doubt, a fair percentage of single women would include those who have consciously decided to edge out men from their domain.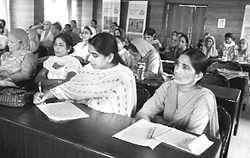 Members of the Ekal Nari Shakti Sangathan, HP, at a meeting in Shimla
Yes, there is a tribe of single women even in rural India who stand out by virtue of their own grit.
The 36 million single women in India (according to the 2001census) represent those who are legally divorced, separated and widowed. If women are the marginalised sections of society, single women are doubly so. At a huge disadvantage, they are vulnerable in so many ways and need, pressure groups to fight their cause and active support from the government.
Realising the unenviable plight of single women, in 2000, Dr Ginny Srivastava, a social activist from Rajasthan, started Ekal Nari Shakti Sangathan. The base widened when single women from Himachal Pradesh, Jharkhand, Maharashtra, Gujarat and Bihar formed similar organisations. More than eight months ago National Forum for Single Women's Rights was formed.
While Rajasthan has taken the lead in picking up cudgels on the behalf of these women who have nowhere to look to, closer home in Himachal Pradesh also commendable work has been done to help the cause of single women.
Subhash Mendhapurkar, Director SUTRA, that has been providing pivotal support to Ekal Nari Shakti Sangathan, HP, formed in 2005, takes pride in the fact that he is in the business of gender and governance.
They have managed to convince the government to concede on two fronts, namely ration cards for single women and Rs 2000 allowance for education of children of single women of BPL families.
Kishwar Ahmed Shirali, consultant Nishtha, an NGO based in Kangra district, punctures the notion that single women are alone. She points out that not only do most single women have children but they often have their maternal families to look after.
The NGOs in Himachal Pradesh are pressing, among other things, for universalisation of social security pension for women above 60 years, and medical cover for OPD expenses. Mendhapurkar is particularly worried about single women above the age of 60. Land rights which single women, especially divorcee and widows, are often denied is another aspect that he is working on. But is the government listening to their pleas?
Soffs Shirali, "After all the efforts and the hullabaloo over the march that we led, the state government has increased the social security pension by a meagre Rs 30 per month." Interestingly, when the Centre doubled up its share from Rs 100 to 200, the state government instead of matching it, increased the pension only by Rs 30.
Whether the onus rests with the Centre or the state government, Mendhapurakar feels that both must come forward. Says he, "A nation that can spend billions of dollars on defence purchase can certainly shell out money for these women."
He argues that if sending children to school is government's business, so are the issues of single women. Gender-just governance, he reiterates, is guaranteed in the preamble of the Constitution. Of course, ensuring it, he and Shirali know, would be a long haul, especially in times when "Society has become dysfunctional and consideration for collective well-being lost in the race to ensure individual's rights."
But the NGOs have kick-started the process and are trying to focus attention on a section that has not only been ignored but denied a voice so far. Now, many such women are finding a voice. That there is light at the end of the tunnel is evident in examples like that of Nirmal Chandel, state co-ordinator Ekal Nari Shakti Sangathan, HP.
Nearly 20 years ago when her husband passed away, she thought life had come to a dead end. Today she offers support and strength to others caught in a similar predicament.
At the state-level meeting recently held in Shimla, issues like linking of ration-card provisions with the size of single women's family were deliberated upon. In Dharmshala, Kangra district, Nistha that lays emphasis on self-reliance and self-esteem, is also offering among other things training in self-defence through workshops.
While sexual exploitation of single women is an area of concern, Shirali is equally perturbed over denial of their sexual needs. Says she, "We have turned a blind eye to this ticklish issue without realising that suppression of body's natural desires causes many psychosomatic illness."
Brushing aside studies that suggest single women in India are happier than in the US, she questions, "Who are they talking about?" Indeed, it's about time we stopped romanticising and deifying the image of single women and redressed the genuine concerns of a sizeable percentage of population that outnumbers the population of Canada.