Gurdwara Pathar Sahib damaged
Leh, August 8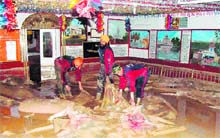 Mudslides in Ladakh have caused an intense damage to the historic Pathar Sahib Gurdwara, located around 25 km from here. The sanctum sanctorum was under four feet slush.




Army jawans clear the slash at Gurdwara Pathar Sahib near Leh on Sunday. A Tribune photograph

Ladakh House abuzz with prayers
Jammu, August 8
The Ladakh House near railway station today remained abuzz with prayers throughout the day as hundreds of Ladakhi students gathered here and expressed solidarity with each other.
Providential escape for Leh youths
Jammu, August 8
Death was three to five feet away from a group of youths when the cloud burst and flash floods hit Ladakh on the intervening night of August 5 and 6.Tsewang Gailtsen, a lecturer, who joined duty in Leh a few weeks ago, told The Tribune over the phone about his providential escape.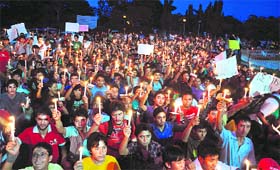 A candlelight vigil organised by the All Ladakh Students' Association for the victims of Leh flash floods, in Jammu on Sunday. Photo: Anand Sharma
Rescue Operations
Tributes paid to policemen
Srinagar, August 8
Rich tributes were paid to the Jammu and Kashmir Police personnel who achieved martyrdom while rescuing people in the recent cloudburst in Leh.The police personnel who died while saving the lives were SI Mohammad Ali, Head Constables Abu-Hussain, Nissar Ahmed and Constable Mohammad Hussain, all from Kargil district.
Chavan reviews relief works
Srinagar, August 8
Minister of State in Prime Minister's office Prithvi Raj Chavan, during a high-level meeting, today reviewed the rescue and relief measures taken for evacuation and rehabilitation of the flood-hit people in Leh.
Panthers Party to attendall-party meeting tomorrow
Jammu, August 8
The Panthers Party, which had boycotted the meeting convened by Chief Minister Omar Abdullah last month to discuss the prevailing situation in the Valley, has decided to attend the all-party meeting called by Prime Minister Manmohan Singh on August 10 in New Delhi.
Need to isolate mischief makers, stresses ex-DGP
Jammu, August 8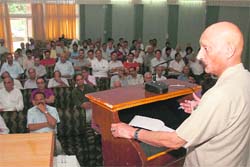 The Panun Kashmir (PK), led by Ajay Chrungoo, today held a seminar on "Making Sense of What is Happening in Kashmir". According to a statement issued here, former DGP MM Khajuria said the "Quit Jammu and Kashmir" call given by Tehrik-e-Hurriyat chief Syed Ali Shah Geelani amidst the ongoing disturbance in Kashmir exposed the political dimension of the conspiracy hatched by Pakistan establishment and its local collaborators.

Former DGP M.M.Khajuria delivers a speech during a seminar organised by the Panun Kashmir in Jammu on Sunday. A Tribune photograph

Sadhotra asks people to back Omar
Jammu, August 8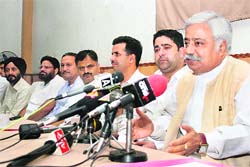 Saluting people of the Jammu region for maintaining communal harmony despite provocation by some vested interests, spokesman of the National Conference (NC) Ajay Sadhotra said the State was passing through a crucial phase and it was high time to strengthen hands of Chief Minister Omar Abdullah.


National Conference leader Ajay Sadhotra (extreme right) addresses mediapersons in Jammu on Sunday. Photo: Inderjeet Singh

Power supply restored in Dulhasti project
Jammu, August 8
After remaining closed for over 24 hours, power generation has been restored in the 390-MW Dulhasti hydroelectric project this morning after experts removed silt from the turbines.
No excess amount recovery after retirement: HC
Jammu, August 8
Justice Mansoor Ahmed Mir of the J&K High Court has quashed a communication dated March 31, whereby respondents had ordered the recovery of the excess amount paid to a writ petitioner because of wrong fixation of his salary. The judge directed the state and its functionaries to release the pensionary benefits in favour of the writ petitioner within six months.
Curfew lifted in Valley
Srinagar, August 8
The indefinite curfew imposed in the entire Kashmir Valley since July 30 was lifted today.Shops, business establishments, schools, government offices and banks opened today.
Incessant rain damaging Abhinav Theatre's structure
Jammu, August 8
Cultural activists and officials at the Academy of Art, Culture and Languages here are worried over incessant rains. They believe that Abhinav theatre could collapse anytime. Though the sky remained clear today yet the water kept seeping through the roof of Abhinav Theatre - the only hub of cultural activities in Jammu - paralysing the scheduled activities.
Heavy rain lashes city
Jammu, August 8
Heavy rainfall lashed the city today, giving commuters a tough time while travelling.According to the Meteorological Department, the city witnessed around 56.4mm rainfall from 8.30 am to 2.30 pm. Almost all main roads of the city got waterlogged due to the rainfall and its impact was visible at the Exhibition Crossing Road and Jewek Chowk.