VOICES FROM THE VALLEY
The third summer of discontent
Ehsan Fazili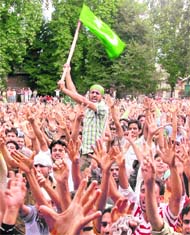 When the state government on July 27 finally constituted a Commission of Inquiry and approved ex-gratia payments for the kin of those killed, in addition to job to one member of the family, it made little impact on the ground situation. It was deemed too little and came too late.
This is the third consecutive summer of discontent in the Valley. It was the Amarnath land agitation that paralysed the state for over two months in 2008 while the next year, the alleged rape and murder of two women in Shopian disrupted normal life in the Valley.
This time, however, there is a qualitative difference. "This is like the sweeping Azadi sentiments of early 1990's", observes a Bank employee, when the central government and security agencies had to face and fight armed militants in the absence of an elected government. This time an elected state government is facing public wrath with police and CRPF fighting the stone throwing youth across the valley.
The Chief Minister Omar Abdullah is faulted for delaying his first public appearance on Thursday (August 5) when he visited Sher-e-Kashmir Institute of Medical Sciences (SKLIMS) to meet the injured undergoing treatment in the hospital. The Chief Minister's statements that " Peace must be restored" and " the cycle of violence must be stopped" are mimicked by people who believe they added fuel to the fire.
"A moderate approach with an early decision to sanction ex-gratia or jobs to the next of kin would have helped,", says Mansoor Ahmed.
The young Chief Minister, before assuming office on January 5 last year, had promised that his priorities would include development, good relations with Pakistan and providing at least one job to every household in the state. While the state is said to have over half a million unemployed youth, another observer Nizamuddin is quick to point out, " a 13 year old boy pelting stones has nothing to do jobs. He is swayed more by sentiment".
The common man is sandwiched between the two sides. "They (separatists) call for bandh and this side (government) imposes curfew restrictions", said a policeman on duty, which has been facing the brunt of the irate mobs along with the Central Reserve Police Force (CRPF).
The coalition government, in its endeavour to contain the situation, failed to get the support of the opposition People's Democratic Party (PDP), which refused to attend the All-Party meet called by Chief Minister Omar Abdullah on July 12.
The PDP even declined Prime Minister Manmohan Singh's plea to attend the meeting. Mehbooba Mufti had earlier urged the Chief Minister to convene a special session of the state legislature. The opposition BJP, which did attend the meeting, did not agree with the resolution with regard to conducting enquiry to ascertain the circumstances leading to the death of civilians. This was one of the six resolution passed at the meeting though they did not make much of an impact on the situation.
More measures are needed to assuage the anger over the recent killings in Kashmir. But the overriding sentiment among political parties in the Valley is that if dialogue can resume with Pakistan, it is time to resume dialogue with Kashmiri separatists too, stalled over the past several years.
Kashmiris more important than Kashmir
Aditi Tandon
Gulzar Ahmad Wani describes himself as the child of conflict. He was born in Baramulla in 1987, the year that saw Kashmir plunge into its gravest ever crisis. From that time on, secession became the order of the day in the Valley as disgruntled cadres of the hardline Jamaat-e-Islami -- including the present chief of Hijbul Mujahideen Syed Salahuddin -- took to guns alleging rigging of the 1987 elections in the state in favour of Farooq Abdullah of the National Conference.
"Our lives have been spent in bloodshed and frustration. Ours is a troubled generation. We are not like our fathers who will sit at home and let things be. We want answers and we want them now," he asserts.
"I am not justifying what the Kashmiri youth are doing, but what they are doing must be seen in context. They are in despair and have nothing to fall back upon. While Chief Minister Omar Abdullah had promised to end human rights violations, killings are only increasing by the day. He has failed to deliver," says Gulzar, who was bright enough to clear the All-India CBSE exam for entry to Jawahar Navodaya Vidyalaya of Baramulla (there is only one Navodaya per district and the competition is real tough). He took his LLB from Jamia Milia Islamia.
Others who have enrolled for IAS coaching at the Hamdard Study Circle here rise in his support. Mohd Aijaz from Poonch (a mechanical engineer from IIT Delhi), Wasim Malik from Anantnag (a law graduate), Rifad from Doda and many others rush to explain the ongoing crisis which, they say, will end only when the Centre and the state offer a political solution to Kashmir. To that extent, they agree with CM Omar Abdullah, who recently said that the valley needs a political package and not an economic one (over the years though, Rs 24000 crore have been pumped into Kashmir without much visible change in ground).
The Kashmiri youth however want to know what the Centre is waiting for. "For years together, the Kashmiris have thrown their weight behind the Centre and the state government in the hope of resolution of this crisis. But every time peace returns, the promise of talks also vanishes. On top of that, security force presence remains at stifling levels. When the Army admits it has reduced the levels of militancy to a minimum, why does the Centre need 6 lakh troops in the Valley? Forces can surely be withdrawn from densely populated areas," Wasim Malik argues.
Strangely, Kashmir, despite its history of violence, has no students' union. But Mohd Aijaz says every district level protest has some familiar leaders who must be spoken to when arriving at a solution to the crisis.
Today, J&K suffers from a lack of governance (Transparency India has rated it among the most corrupt states where 6 lakh youth are registered as unemployed), with Omar facing the accusation of lacking both "sensitivity and aptitude" to handle the crisis.
"He had an opportunity in 2008 when the Valley, in a significant turnout, voted for the NC-Congress alliance. That chance has been lost. In fact, Omar's installation as CM was the first deception of the Kashmiri people who had voted for his father. How could Farooq Abdullah forget that in the 2002 state polls when he projected Omar as the chief ministerial candidate, the National Conference lost half of its seats in the Valley and Omar lost the Abdullah family constituency of Ganderbal to the PDP? Still in 2008, Omar was installed as the CM. As expected, he could never connect to the people," Mohd Sayeed Malik, Kashmir affairs expert points out.
As Gulzar puts it, "The Centre must realise that Kashmiris are more important than Kashmir."
Fighting a different battle on cyber space
Tejinder Singh Sodhi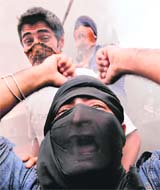 Social networking sites like Facebook, YouTube and Orkut are abuzz with 'cyber protests in Kashmir'. They are being used by the more educated and possibly more well to do youth than the stone pelters in the Kashmir Valley. Some of them describe themselves as 'cyber warriors'.
The wikipedia, the largest online and interactive encyclopaedia, has also become a popular site for them to spread their 'message' and many new articles including, "Quit Kashmir phase I' and 'Quit Kashmir phase II' have come up since June 11, when the present unrest erupted in the Valley.
"A large number of educated youth who cannot come out on roads to take part in the protest have adopted these means ," the creator of community 'We protest the killing of innocent Kashmiris' told The Tribune while requesting anonymity. The community has more than 300 members and surprisingly enough, a large number of the members seem to be residents of other Indian states and from different religious backgrounds.
Many such cyber communities have come up and most of them seem to be running hate campaigns against the Abdullahs. A contributor to one such site writes, "one Abdullah (referring to Sheikh Mohammad Abdullah) for his political interest brought the Indian Army in Kashmir on October 27, 1947, while another Abdullah (referring to Dr Farooq Abdullah) to confirm his position in Kashmir brought the Gun in Kashmir (referring to the eruption of the armed insurgency in the valley in late 80's when Farooq was the chief minister) and now Omar Abdullah has brought more forces to quell the voice of the Kashmiri people who are holding peaceful protests against their oppression'.
Another brazenly communal comment maintains that Omar was only 12.5 percent Kashmiri since his grandfather married a Gujjar lady, his father a Christian and he himself a Sikh." In most of such hate communities on Facebook, Omar Abdullah is addressed as Omar Singh.
Another such community is named 'Bekaar Jamaath' (Idle group) with a fan following of 5,591 and has also prepared its 'official website' www.bekaarjamaath.co.nr. The community has a presence on all the social networking sites and has its own blogs, while the moderator of the community asks people to share news about their places and even keeps track on the movement of Syed Ali Shah Geelani.
The sites also carry digitally morphed pictures and in one such community, 'Free Kashmir', a user has posted a morphed picture of a Rs 1,000 currency note in which the picture of Mahatma Gandhi has been replaced with the picture of the Chairman of the hardline faction of the Hurriyat Conference Syed Ali Shah Geelani and the 'Reserve Bank of India' has been replaced with the 'Reserve Bank of Kashmir'.
There are digitally manipulated photographs of the Chief Minister, some of them offensive and showing Omar Abdullah with fangs, and also of Union Minister Farooq Abdullah offering prayers at some Hindu temples and dancing with models.
The users are also taking pictures with mobile phones and uploading the footage of police firings on Youtube.
FARRUKH SALEEM (18) , Qamarwari, Srinagar : "I am a day older than Gandhiji," he says with a chuckle. Born on October 1, 1989, the eldest of three siblings, becomes sombre when asked about his future in Kashmir. " Dark, completely dark," he states solemnly. He adds with a wry smile, " We only know how to chat…there is no unity …and we sit back and watch things happening as mute spectators," he complains and points out that unemployment, corruption and drug addiction continue to keep the future bleak.
His favourite political figure ? " No one ! I hate them all." What does freedom mean to him ? " Peace of mind, liberty to do what my heart says and justice for the meek and the poor," he states with a flourish.
NAIM ANJUM (17), Uri : "Life is difficult in Uri. There is army everywhere and it is like hell to breathe in the air that is filled with terror," says Naim, son of a driver. He blames the politicians for the prevailing uncertainty and says, " Now we are strangers in our own place and have to prove our identity to those who have illegitimately occupied our homeland". Yet he hopes to join the civil services. He would like an end to violence and bloodbath and to corruption and unemployment…
ASIF SHABIR (20), Sopore : An optimist he does not agree with those who see no future in Kashmir. " How can you say so when you are 'normal' and I am not ?" asks the partially handicapped young man. One day or the other, he believes, Kashmir will get independence and hope, he says, must be kept alive and recites the following lines :
" Mushkilan azmaeshan hund sun samandar zindagi,
Subhanas mehshar ti shaamas shor-e-mehshar zindagi,
Zinde roz tithkan yithkan zindan manz rozak shumaar,
Lagawani arsh malak jibrael ( AS) sind par, zindagi."
(Life is a deep sea of difficulties and challenges;
TANVIR YOUSUF (25), Anantnag : An IT student who has become a Medical Representative, he strongly feels about the inadequacies of the education system. " We lack basic facilities, good schools and teachers; lack of resources make us incompetent to the outside world," he quips. But he wants Kashmir to remain a part of India and says, " It is better to be a part of a developing country than to start from scratch like a novice; while human rights violations are due to the Indian armed forces, to some extent we are ourselves responsible for the mess we are in."
AFREEN NIYAZ (17), Srinagar : She wants Kashmir to " get free from the clutches of Indians" but blames Kashmiri people for corruption, for whiling away time gossiping, doing nothing for society and for making Kashmir a living hell. She wants to become a dietician and believes that her generation can make a difference.
ZARQA SAKEENA (18) : Her grouse is that Kashmir is just not 'secure': " You never know what is going to happen next." Educational institutions in the state, she points out, do not provide quality education and hence the Kashmiri youth are unable to compete at All India levels. "we stand nowhere," she states and adds that 'the need of the hour' is for the youth to become activists and 'serve the motherland".
AMBREEN ANJUM (20), Srinagar: " I don't want to take up arms but making people aware at national and international levels is also important," says the student , who was selected by the Government of India for a fellowship in the US. Political instability in Kashmir has been stifling, she says and adds hopefully that once the Kashmir issue gets resolved, all the problems would disappear.
(Compiled from the Netlog of Suzeina Mushtaq)