Another Bulbul-like tragedy averted
Panchkula, August 9
Another Bulbul-like tragedy was averted here today when doctors at the Sector 6 General Hospital reportedly turned away a poor resident of Mansa Devi Complex area writhing in labour pains, forcing her to deliver the baby in an auto-rickshaw.
City players prove their mettle
Chandigarh, August 9
When Punjab and West Bengal were competing for top honours in the Santosh Trophy at Kolkata yesterday, it was a pleasure to watch players from the city in the two sides.
Youth killed by SP's vehicle, booked
Fatehgarh Sahib, August 9
In yet another case of police high-handedness, a bike-borne youth was killed after colliding with official vehicle of the SP and later booked for rash and negligent driving by the police.


Now, laser show, musical fountain at Sector 17
Chandigarh, August 9

Sector 17, the heart of the city, is all set to have a musical fountain and laser show for the entertainment of visitors and shoppers. The Municipal Corporation of Chandigarh has floated a global tender for the Rs 3-crore project, which will make the sector an entertainment hub, given the unique features of the musical fountain-cum-laser show project.

The fountain at the Sector 17 Plaza which will be replaced by a musical fountain. A Tribune photograph
Delaying tactic over water tariff hike
Mayor refers proposal to DOEACC
Chandigarh, August 9
In another delaying tactic, Mayor Anu Chatrath has referred the proposal of the water tariff hike to the Department of Electronics and Accreditation of Computer Classes (DOEACC). The department has been asked to submit a report on the percentage of increase in the water tariff.
UT Secretariat
Nothing 'Deluxe' about this building
Chandigarh, August 9
One of the most important buildings in terms of public dealing and daily footfall, the additional deluxe building of the UT Secretariat in Sector 9 is a nightmare equally for employees as well as visitors. While the officials of the UT Administration who have their air-conditioned cabins on different floors may have never noticed, but the other staff is facing problems not only inside the building but outside as well.
Non-functional streetlights dot Mohali roads
Mohali, August 9
Some areas of Mohali continue to reel under darkness, as the authorities concerned have failed to maintain streetlights, especially on the main roads, causing inconvenience to residents.
Spreading awareness on legal reforms
Chandigarh, August 9
In order to spread awareness among students regarding judicial reforms in India, a paper-reading contest was organised at department of Laws, Panjab University, Chandigarh, here.
More wait for new tubewells
Zirakpur, August 9
Local residents may have to wait a few months more for the installation of 10 new tubewells here. For, the task of installation has been handed over to the Punjab Water Supply and Sewerage Board.
Mohali gets two more fire engines
Mohali, August 9
The keys of two new fire engines were handed over to the fire brigade employees by Kharar MLA Balbir Singh Sidhu at Municipal Bhawan here today. But the irony of the whole situation is that there are no drivers to run these additional vehicles.
Admn gears up for BKU protest rally
Chandigarh, August 9
The UT administration has taken steps to tackle any untoward incident in the city during the Bhartiya Kisan Union's protest rally planned for tomorrow. A coordination meeting was held under the chairmanship of district magistrate Brijendra Singh today to review the arrangements to deal with the proposed protest rally by the BKU.
PGI sets up OPD at Leh
Chandigarh, August 9
The PGI gesture to provide staff and equipment to set up an operation theatre at Leh has proved to be a shot in the arm for healthcare agencies in the cloudburst ravaged region as the locals have also started contributing in the restoration work.
Awareness about Haryana heritage
Panchkula, August 9
Marking the 68th anniversary of "Quit India Movement", the archives department of Haryana has organised an exhibition on its office premises here today.
Pensioners urge govt to reconsider demands
Mohali, August 9
Members of the Defence Accounts Pensioners Welfare Association have expressed resentment over the meagre increase in the family medical allowance demanding that the government should reconsider the genuine demand of pensioners.
Maid's son dies at Snehalaya
Chandigarh, August 9
Raju, the six-year-old son of a housemaid, who was shifted to Snehalaya, a shelter for destitute children, in Maloya three weeks ago, died this morning. The child was staying there ever since his mother, forced by poverty, left him at the shelter's doors on July 17.
Baba Nidhan Singh remembered
Patiala, August 9
A seminar on the life history of Baba Nidhan Singh Hazur Sahib Wale was organised at Punjabi University, Patiala, on Wednesday.
PHRC seeks police report on delay in action
Mohali, August 9 A day after the police filed a case under the Dowry Act against the in-laws of a married woman for allegedly attempting to set her on fire, the Punjab Human Rights Commission (PHRC) sought a report from the Mohali SSP to explain the delay in taking action against the suspects who reside in Phase 4.
Man threatens in-laws with 'toy gun'
Panchkula, August 9 Threatening in-laws at gunpoint proved dear for son-in-law, who was not only beaten up by relatives, but was also handed over to the police here today. However, later it was found that the gun was a mere 'toy'.
Candlelight march held

Chandigarh, August 9
In pursuance of the decision of the Active Resident Welfare Association, Sector 38 (West), a candlelight protest march was organised under the banner of the Federation of Sector Welfare Association (FOSWAC) this evening to express their anguish over the inaction of the police to nab the culprits who had committed the cold-blooded murder of 22-year-old girl Neha on July 30.

Members of the welfare association take out a candlelight march in Sector 38 (West) on Monday. A Tribune photograph
Leh students worried about kin
Chandigarh, August 9
The disrupted telecom services in Leh following flash floods have given anxious moments to nearly 50 students of Panjab University, hailing from villages close to Leh.


Protest against joint placement drive
Chandigarh, August 9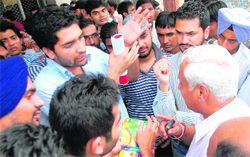 Panjab University Student Union (PUSU) in a protest here today at the UIET block, Sector 25 south campus of Panjab University (PU), expressed its strong disagreement on the joint placement drive started by the PU authorities.



Prof Naval Kishore, DSW, Panjab University, tries to pacify agitated PUSU members outside the UIET in Chandigarh on Monday. Tribune photo: Pradeep Tewari
Battle lines drawn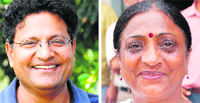 Chandigarh, August 9
After hectic days of campaigning by two major teachers group, battle lines are finally drawn for the Panjab University Teacher's Union (PUTA) election to be held tomorrow.
Presidential candidates Akshay Kumar; and (right) Jaspal Kaur Kang
Defacement goes unchecked at Zirakpur
Zirakpur, August 9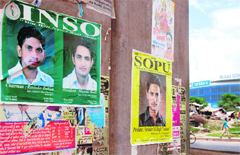 he battle of ballots at Panjab University has virtually left Zirakpur defaced. Even though the election's date is not announced, hundreds of posters of candidates have been put up on the pillars of Zirakpur flyover.




Posters of the candidates for Punjab Students Council Election deface Zirakpur flyover. A Tribune photograph
Syndicate orders regular panel to probe
Chandigarh, August 9
At a meeting today on the Panjab University campus, the Syndicate decided to form a regular committee for the examination branch corruption case.
Issues of global concern discussed
Chandigarh, August 9
St John's High School, Sector 26, organised an inter-school model United Nations (UN) conference yesterday.
DAV College seeks to cancel student polls
Chandigarh, August 9
Perturbed over incidents of student violence both on and off campus, the DAV College administration has recommended student elections be cancelled to ensure peace and discipline.