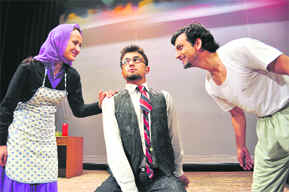 Artistes perform in a play, "The Proposal", at Gaiety Theatre in Shimla on Monday. Tribune photo: Amit Kanwar

HPU officers resent deviation from UGC pay scales
Shimla, August 9
Resentment prevails among officers of Himachal Pradesh University (HPU) over the failure of the authorities to implement revised pay scales as per the past practice.
Centres to study climate change
Mandi, August 9
Coming to terms with the climate shift and climate change in the Himalayan region, GB Pant Institute of Himalayan Environment and Development (GBPIHED) is setting up 14 high-tech "climate stations" at the base of the world's highest battlefield - Siachin glacier to Sikkim in northeast - to map, study and predict the magnitude of climate change in the region.
Water Conservation
Agri varsity model seeks govt attention
Dharamsala, August 9
Kangra district, especially the areas along the Dhauladhar mountain ranges, is one of the wettest areas of the country. According to general belief, the region receives second highest rainfall after Cherrapunji in north east.
Rashtriya Kisan Vikas Yojna
Selection of beneficiaries under lens
Hamirpur, August 9
While the Animal Husbandry Department is in the process of preparing lists of beneficiary farmers across the state who would be given grass-chopping machines on subsidy under the Rashtriya Kisan Vikas Yojna launched by the Centre, but eyebrows are being raised over selection of the farmers.
Nathpa Jhakri may resume generation today
Shimla, August 9
Generation could not be resumed at the 1,500-MW Nathpa Jhakri hydroelectric project, which was shut down five days ago, even though the level of silt and discharge in the Sutlej declined further.
Help for Leh victims
Kangra, August 9
Vivekananda Kendra, a spiritually oriented service mission with its headquarters at Kanyakumari, today decided to donate essential commodities and blankets worth Rs 5 lakh among the cloudburst victims at Leh and the distribution would be made by the kendra workers personally.
Six years on, Kangra coop bank awaits recruitments
Hamirpur, August 9
Though more than 500 post of clerical and other categories are lying vacant in Kangra Central Cooperative Bank (KCCB) for quite some time, the bank management is facing many hurdles in filling them. The last recruitment in the KCCB was carried out about six years back during the previous term of the BJP government which had reportedly become controversial and attracted scrutiny later. However, cases related to these appointments were still pending.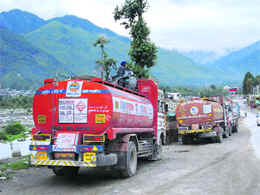 Manali-Leh road still closed, hundreds stranded
Manali, August 9
The 475-km-long Manali-Leh highway - one of highest motorable road in the world - is still closed for vehicular traffic, and hundreds of vehicles, including oil tankers, light vehicles and buses from Leh-Ladakh region, are waiting for the road to reopen.
Oil tankers from the Leh region await reopening of the Manali-Leh highway near Bahang, about 4 km from Manali, on Monday. Photo: MC Thakur

Classes at IIT Mandi begin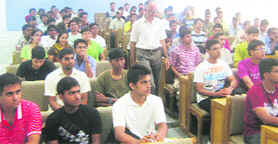 Mandi, August 9
First batch of BTech II students, who have been shifted from IIT Roorkee to IIT Mandi, today made tryst with the new spruced-up campus of the Postgraduate Vallabh College.
Prof TA Gonsalves, director, IIT Mandi, interacts with students during the first classroom session in Mandi on Monday. Photo: Mahesh Chander Sharma

369 cartridges recovered
Hamirpur, August 9
The police has recovered hundreds of live cartridges and an old machine gun in a check dam today. Hamirpur SP Kuldeep Sharma said a few children were bathing in a check dam near Salasi village when the cartridges stuck in their feet.
Water supply in Chamba disrupted, restored
Chamba, August 9
Water supply in Chamba town that was disrupted last night was restored today evening. The residents had to go without water in the morning.
BJP state executive meeting
Shimla, August 9
The newly appointed in charge of BJP in the state, Kalraj Mishra, will attend the meeting of the state executive of the BJP to be held here on August 20-21.