Inside art's den
The creative corner of an artist always holds a special fascination for art lovers. Parbina Rashid takes a sneak peek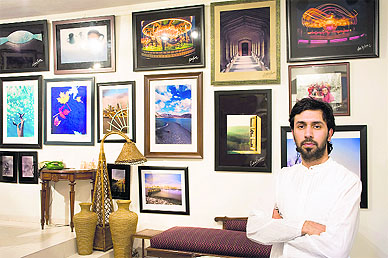 Surkhab Shaukin displays his photographs at his gallery in Sector 16

Who does not like to take a peek into someone working's space? If for nothing else than just to see how tidy or untidy or how organised or disorganised that someone is! And if that someone happens to be an artist, the curiosity is all the more. Those squeezed colour tubes, discarded brushes, overflowing easel, live models - the creative corner holds fascination for any art lover. If one finds a voyeuristic tendency in doing that, then we can assure that we are not the minority here.
Eamann McCabe, an eminent photographer, in 2008 penned down a book called 'Artists and Their Studios', which was based on renowned contemporary artists. He made news when few of the photographs, which he used in his book, were exhibited at the National Portrait Gallery in London the same year and going by the number of visitors, people do like to know how an artist works.
And, artists do not mind sharing their space with art lovers either. Gustave Courbet's famous oil painting The Artist's Studio: A Real Allegory of a Seven Year Phase in My Artistic and Moral in 1855, now located in the Musee d'Orsay in Paris, justified by saying "The world comes to be painted at my studio" and true to his words, he captured in his painting forms and figures representing various influences on his artistic life. Famous Dutch artist Adriaen Van Ostade too captured himself in his working area in the painting Selfportrait, which he painted with oil in wood in 1663.
And with this confidence we derive from these two famous paintings, we knock on the doors of a few homegrown artists' working space. Some are organised and some are not, some seeks inspiration from the clutters around them while others like it spic and span. To each of his own!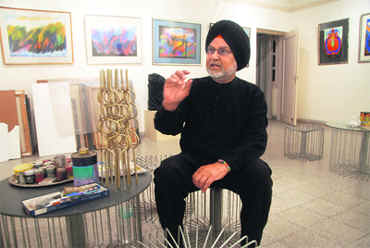 When an artist creates something he needs to display it properly to know how the final creation looks like. Besides, a visual experience of his own works is important to get inspired. — Shiv Singh

Sculptor of international repute Shiv Singh, for instance, goes for the neat corner and hence has divided working area into two compartments, the furnace area at the backyard and the studio-cum gallery on the first floor of his sprawling house in Panchkula. "It was designed by architect Shiv Dutt Sharma but I have done a few modifications," says Singh as he gives us a guided tour.
Singh had to shell out about Rs 2.5 lakh while making those changes and installing proper lights in his two display sections, which are 30ft X 28 ft and 17 ft X 17 ft. "You won't find this kind of a lighting system in any of the city galleries," says Singh with a touch of pride. Another proud possession of Singh is the metal murhas he has designed as part of the sitting arrangement.
Why, we wonder. "Because when an artist creates something he needs to display it properly to know how the final creation looks like. Besides, a visual experience of his own works is important to get inspired," he adds.
And it was the need for this visual experience that urged Ravinder Sharma to have a full-fledged art studio of his own. "When you are surrounded with your own works it helps you grow as an artist and also as a human being," says Sharma whose newly built Kansal studio has an area of 20 ft X 30 ft display section, a studio and an open-air workplace.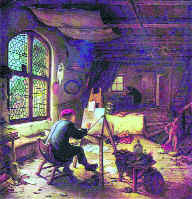 Selfportrait by Adriaen Van Ostade

"The most important section is the gallery, as an artist has to look at his painting from a distance and from various angles. A work of art is never complete but we try to bring it the most appropriate ending and that is possible only when we look at it for hours from all possible directions," explains Sharma. Designed by a young architect Basu Bhasin, both his gallery and studio has enough natural light but for the evenings Sharma wants to put up a specialised lighting system in his gallery.
Having a modern display section had never been the prime focus for artist Madan Lal when he set up his work-station at a separate flat from his living quarters, and so, as one enters his studio in Sector 47, it is more of clutters and smell of paints that greet one, but the array of shelves containing his paintings in the raw form is awe-inspiring. It's all about paintings and paintings and bare minimum technology. "I like to keep it technology free, no telephone, no sophisticated gadgets; I keep it basic to keep me rooted to my artistic ground," says Madan.
While creative inspiration is one thing, commercial aspect of art is another that is driving homegrown artists to have their own studio-cum-galleries. This is what drove young photographer Surkhab Shaukin to start his own gallery about eight years ago. "Photography was not a recognised art in the city those days, so not too many galleries were willing to exhibit my work. So, the alternative was to have a gallery of my own," says Surkhab. Has the emerging market trends helped him commercially? "There are still not too many buyers in the city, but visitors often drop in to look at my works, which is encouraging, " he adds. With artists so dedicated and buyers so enthused, it definitely spells of a good time ahead. parbina@tribunemail.com