PUNJAB
HARYANA
JAMMU & KASHMIR
HIMACHAL
REGIONAL BRIEFS
NATION
OPINIONS
LETTERS
BUSINESS
SPORTS
WORLD
Every Wednesday & Saturday
Separatists calling the shots in Valley
Independence Day is 'black day' in Kashmir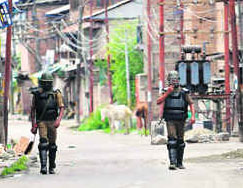 Srinagar, August 10
Independence Day (August 15) would be observed as 'black day' in Kashmir and a general strike would be observed whereas there would be no strike on Pakistan's Independence Day on August 14.
Security personnel patrol a curfew-bound Srinagar street. — Reuters

Security beefed up ahead of I-Day
Jammu, August 10
With a view to thwarting any terrorist attack during the Independence Day celebrations, the police and other security forces have beefed up security arrangements around the Parade Ground, the venue of the main function, and at other vital installations here.
Turmoil: Contractors, daily wagers, pensioners bear the brunt
August 10, 2010

MC digs up trouble in Jammu
August 4, 2010
Fertiliser shortage worries Jammu farmers
July 31, 2010
Healthcare a casualty in rural Kashmir
July 28, 2010
Turmoil costs state Rs 3500 cr
July 24, 2010
People want polluting brewery shifted
July 21, 2010
Turmoil leaves patients gasping
July 17, 2010
Shops in valley out of stock
July 14, 2010
Jammu dairies raise stink
July 10, 2010