Mid-day Meal: Centralised Kitchen Runs Into Controversies
18 complaints in 9 days
Ashok Kaura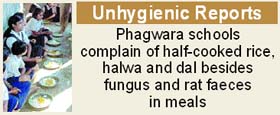 Phagwara, August 11
The privatisation move of the state government to engage private companies to prepare and provide mid-day meals to the primary and upper primary students in the government and government-aided schools has run into controversies just after nine days of starting a centralised kitchen in Phagwara.
It is learnt that 18 complaints regarding supply of unhygienic food (on an average two in a day) were received from different schools in Phagwara during the first nine days.
The complaints ranged from half-cooked rice, halwa and dal, meals with fungus and supply of rat feces-mixed rice.
Prabhcharan Singh, General Manager, Mid-Day Meal, Punjab, said Director General School Education Krishan Kumar has summoned a meeting of all officials concerned besides representatives of all four non-governmental organisations --- Shade-India Society, Jan Chetna Jagran Society, People Welfare Society and Istri Shakti Society (all Delhi-based bodies) at Chandigarh on August 13 to take stock of the situation of the development and working of these NGOs.
He said no complaint was being received from Nawanshahar and Firozepur districts for the last one and half year, but some complaints were being received from Phagwara and Sultanpur Lodhi, as these prestigious schemes are being opposed by some elements, working with their vested interests only.
He expressed his wonder that more than 50,000 school students are being provided mid-day meal in Phagwara, Sultanpur Lodhi and Mansa As many as 18,569 students of 177 schools in Phagwara, 20,000 students of 199 schools of Sultanpur Lodhi and more than 10,000 students of 86 schools of Mansa are being provided food but not even a single student fell ill, he said.
It may be mentioned here that complaints of supply of unhygienic food were reported from Phagwara, Chiherru, Khurampur, Bhabhiana, Rampur Khalian, Bhularai, Chiherru, yesterday, and from Chack Hakim, Hardasspur, Bazigar Basti, and Hadiabad of Phagwara sub-division today.
Meanwhile, Kapurthala Deputy Commissioner Raj Kamal Chaudhary today constituted a six members committee, including ADC Kapurthala Gurmail Singh, Phagwara SDM Amarjit Paul, CDPO Phagwara, District Education Officer (Primary), Block Development Officer Phagwara and Senior Medical Officer Dr Rajiv Gupta, to investigate the complaints and find out the truth.
The committee members today visited schools, including schools of Bhabhiana and Bhularai villages, checked the food, talked with the students and staff, recorded their statements and inspected the procedure of food preparations in the centralized kitchen on Phagwara- Hoshiarpur Road this afternoon.
SDM Phagwara Paul had again instructed the Food Manufacturer and Supplier Company to adopt all necessary precautions and preventive measures and ensure fresh and hygienic supply of mid-day meal.
He said stern action would be taken against the carelessness of each responsible as nobody would be allowed to play with the health of students.
He said the committee headed by ADC would soon submit its report along with its recommendations to Deputy Commissioner Kapurthala. He said these private companies would have to deliver fresh and hygienic meal in each school before 11 am daily.
It may be mentioned here that the state government has been working to implement a comprehensive plan in more than 7,000 government and government-aided primary and middle schools to provide mid-day meal to more than 23 lakh students of the state and the food would be prepared in the centralised kitchens of each sub-division of every district of the state so that the students could get more hygienic food and the teachers could focus on teaching only.