M A I N N E W S
Now you can keep your cell number
From October 31, mobile users can retain their number even if they change the network
Tribune News Service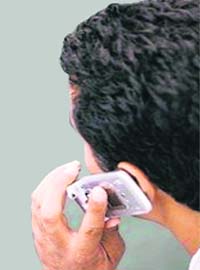 Mobile Number Portability
The mobile number portability (MNP) allows a mobile user to change his service operator while retaining the number.
THE DILLY-DALLYING
The facility was to be implemented by December 31, 2009, in all metros and in Maharashtra, Gujarat, Andhra Pradesh, Karnataka and Tamil Nadu. The deadline was forwarded to March 31, 2010, and then to June 30, 2010
New Delhi, August 12
Mobile phone users will have access to Mobile Number Portability(MNP) with effect from October 31, announced the Telecom Regulatory Authority on Thursday. " There will be no further delay in the implementation of MNP," said TRAI chairman JS Sarma.
MNP is a service that allows a mobile user to change his service provider or operator while retaining the number.
India has over half a billion, over 50 crore, mobile connections, making it the second largest group of users after China. This translates to an urban tele-density of close to 97% and rural teledensity of about 18%. The actual number may, however, be less since many users have access to multiple SIM cards.
At the same time, there has been a sharp decline in the number of fixed landlines, which is down to around 37 million as against nearly 550 million mobile phones. Broadband penetration, however, is still very low at less than 10 million.
The announcement comes even as major service providers like Bharti Airtel, Reliance, Vodafone, Tata Telecom, Idea, Essar and Aircel are gearing up to launch high-speed 3G services from next month.
Public sector telecom companies , Bharat Sanchar Nagar Nigam (BSNL) and Mahanagar Telephone Nigam Limited (MTNL) have already declared that they are ready with the infrastructure to implement the MNP service.
The government on Thursday said operators must ensure that all tests for transferring the numbers from one service-provider to another are completed before the end of August. In case they fail to meet the deadline, they would be barred from launching any new commercial services from September 1 this year, said the Department of Telecom (DoT).
It effectively means that if the service providers fail to provide MNP to the users, they may not be allowed to lauch new services like 3G. Only MNP-compliant licencees would get permission, the DoT clarified.