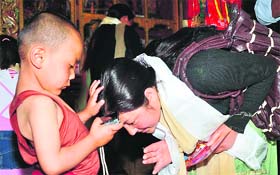 NEW ORDER: Six-year-old Thupstan Ngwang Norbu was anointed the 20th Bakula Rimpoche in a ceremony at the historic Spituk monastery on Thursday. He succeeds Lobsang Thupstan Chognor , who died a few years ago. Tribune photo: Anand Sharma
Ladakh Floods
Army godsend, says survivor
Leh, August 12
At a time when people in the Valley are fighting pitched battles with security forces, for 18-year-old Wahid, a victim of the deadly cloudburst, the Army was godsend.
Miracle baby reunites with father, a jawan
Leh, August 12
The two-and-a-half-year-old miracle baby of the Leh cloudburst who survived slush and boulders has been reunited with her father, who incidentally is an Army jawan posted in the Siachen region.
Pak hands over body of flash flood victim to India
Leh, August 12
Pakistan today handed over the unidentified body of a flash flood victim to the Indian authorities here.
New OTA in Gaya, says Army chief
Bangalore, August 12
Army chief General VK Singh today announced that the Army Service Corps Centre (North) would be shifted from Gaya in Bihar to Bangalore. VK Singh, who first made the announcement in the presence of Karnataka Chief Minister at a function here, later told reporters that the shifting was part of the "relocation policy" of the Army.
Krishna: Trying to make Hindi official language of UN
New Delhi, August 12
Efforts are on to make Hindi an official language of the UN and assistance from NRIs has been sought for this, the Rajya Sabha was informed today. "The government has taken action to make Hindi one of the official languages of the UN... A high-level committee under the External Affairs Minister was also formed in 2003 for this.

I'm not Mr Obstruction, says Jairam
New Delhi, August 12
Bombarded with criticism from Cabinet colleagues for blocking development and infrastructure projects, Environment Minister Jairam Ramesh today said he was not a "minister for stoppages".

Jairam Ramesh
SC to states: Don't let grain rot, give it to the hungry
New Delhi, August 12
The Supreme Court today suggested to the government to make proper use of its foodgrain stock rotting due to lack of storage space by distributing it free of cost to hunger-stricken people in tribal and drought-prone areas.
Gujarat HC transfers Ishrat case to SIT
Ahmedabad, August 12
Rejecting the demand for a CBI inquiry, the Gujarat High Court today transferred the Ishrat Jahan encounter case to the Supreme Court-appointed Special Investigation Team (SIT).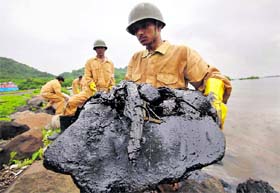 Workers clean the slicked shores of Elephanta Island on the outskirts of Mumbai on Thursday.
— Reuters
Sohrabuddin Fake Encounter Case
CBI gets 3 more months for probe
New Delhi, August 12
The Supreme Court today granted three more months to the CBI to probe a possible "larger conspiracy" in the killings of Sohrabuddin Sheikh, his wife Kauser Bi and friend Tulsiram Prajapati allegedly by Gujarat police.
CBI files FIR against Koda
Ranchi, August 12
The CBI has lodged the separate FIRs against former Jharkhand Chief Minister Madhu Koda, six of his former cabinet members and two of his aides on corruption charges, a week after the High Court asked the agency to take up the investigation.
AFT removes anomalies in disability pension rules
Extends broad-banding plan benefits to thousands of pensioners
Chandigarh, August 12
In a landmark judgment affecting thousands of disabled personnel, the Armed Forces Tribunal yesterday extended the benefits of "broad-banding" disability pension to those who are released on the completion of their terms of engagement or on superannuation.
Centre decision on caste census shortly
New Delhi, August 12
The final decision on how and when caste would be included in the census (2011) will be taken shortly by the Union Cabinet, said Finance Minister Pranab Mukherjee following disruption and agitation in the Lok Sabha today by the members of BJP, SP, JD-U and RJD, demanding the immediate commencement of caste enumeration.
Terror threat: Night trains suspended
Guwahati, August 12
With militants on the prowl before Independence Day, the Northeast Frontier Railway heeding to the advice of the Assam government has suspended night running of all trains in Assam during 6pm of August 14 to 5am of August 17.