Swine flu is back
l Season's first case in city l Authorities on alert
Ludhiana, August 12
With Deepak Kumar (26) of Sector 32-A, Chandigarh Road, in Ludhiana having tested positive for Swine Flu today, the department of health and family welfare has taken a double-check on the preventive and curative measures to fight against the disease.
Tough times for sewing machine industry
Ludhiana, August 12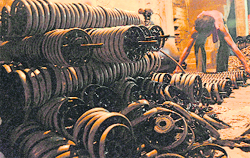 Today, 159 years after the Singer sewing machine was rolled out in the market, the Chinese industry and fluctuation in raw material prices are giving tough competition to the indigenous sewing machine manufacturing industry of Ludhiana, which boasts of between 80 and 90 per cent of the total production of the domestic sewing machine industry, which is worth around Rs 15 billion.
A worker at a sewing machine unit collects wheel handles. Tribune photo: Himanshu Mahajan
Regularisation of Unauthorised Colonies
Realtors on real(i)ty high
Ludhiana, August 12
Colonisers and property developers here are upbeat over the government's decision to regularise unauthorised colonies, terming it a giant step towards the promotion of planned urban development.
2 days after 'launch', police portal on the blink
Ludhiana, August 12
Two days after the much-hyped web portal of the Ludhiana Police Commissionerate (www.ludhianapolice.in) was launched by Deputy Chief Minister Sukhbir Singh Badal, it has failed to function.


PAU employees' stir enters second day
Ludhiana, August 12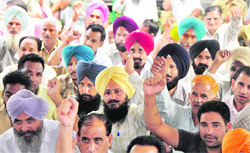 The ongoing strike by teaching and non-teaching employees of Punjab Agricultural University (PAU) has affected classroom teaching on the campus.




PAU teaching, non-teaching and Class IV employees stage a dharna outside the university's Thapar Hall on Thursday. A Tribune photograph
Indo-Pak Bonhomie
Indian volunteers take out peace march
Ludhiana, August 12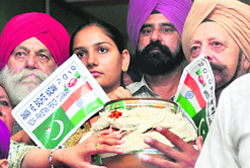 A group of volunteers named "Aman ke Badhte Kadam" have been touring different parts of India and Pakistan with an objective of not only making travel between the two countries easier, paving the way for people-to-people contact but also for strengthening the Indo-Pak relations.


Functionaries of various organisations welcome the Indo-Pak jatha in Ludhiana. A Tribune photograph
Cong councillors a house divided
Ludhiana, August 12
Factionalism in the Congress has once again come to the fore. Some Congress councillors organised a sudden press conference at the Youth Congress' office to give an ultimatum to the Mayor to complete pending works in their wards by September 13.
Checks conducted ahead of I-Day
Ludhiana, August 12
Apprehending terrorist threats on the Independence Day, the police conducted surprise checks in various locations here today.
Teej celebrations at vet varsity
Ludhiana, August 12
Guru Angad Dev Veterinary and Animal Sciences University (GADVASU) will celebrate "Teean Teej Dian" on August 15.
Tearful adieu to former Mayor
Ludhiana, August 12
As a mark of respect to former Mayor Nahar Singh Gill, the municipal corporation was closed today.


Gold chain snatched
Ludhiana, August 12
Two motorcycle-borne youths snatched a gold chain from a woman while she was returning home after paying obeisance at a temple in BRS Nagar here today.