MNREGA
Irregularities galore, action rare
Palampur, August 17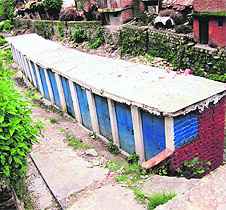 Despite tall claims by the state government regarding the successful implementation of the Mahatama Gandhi National Rural Employment Guarantee Act scheme in the state, there are reports of large-scale irregularities and rampant corruption.
Toilets constructed on the banks of Bhiral Khud in Palampur under the MNREGA are on the verge of collapse because of poor quality of work and material used. Photo by the writer

Agri varsity quashes promotion of 45 teachers
Palampur, August 17
In a significant policy decision, the Board of Management of Himachal Pradesh Agriculture University (HPAU), has quashed promotion of 45 teachers availed from 1999-2000 to 2002-03 in gross violation of rules.