Legal Services Authority chief to visit Leh
Srinagar, August 19
Justice Virender Singh of the high court and executive chairman of the State Legal Services Authority (SLSA) will visit the cloudburst and flood-hit areas of Leh on August 21 and 22 to assess the situation and interact with the affected people.
Train services to Jammu may come to halt
Railway bridge at Bari Brahmana in bad shape

Bari Brahmana, August 19
The train services to Jammu may come to a halt, as the foundation of seven pillars beneath a railway bridge constructed over the Balole Nullah at Bari Brahmana in Samba district has been washed away partially. The recent rain in the region has played havoc with the foundation of the bridge, whose condition is deteriorating with each passing day.

Work on to save the damaged foundation beneath a railway bridge over the Balole Nullah in Bari Brahmana in Samba district on Thursday. Photo: Inderjeet Singh

1 Army man killed, 17 hurt in landslide
Jammu, August 19
An Army man was killed while at least 17 others were injured, two of them critically, when a landslide triggered by a heavy rain hit them during a routine training at Laiter, 40 km from Reasi, this morning.
Rain floods low-lying areas
Jammu, August 19
Heavy rain in the last 24 hours caused huge losses to people, as the rainwater inundated low-lying localities of the city today.
Anti-ragging squads in Jammu colleges
Jammu, August 19
In the light of the Supreme Court directions, almost all city colleges have constituted anti-ragging committees/squads to curb the menace of ragging.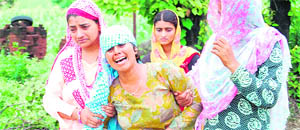 Former cop killed by sons
Jammu, August 19
Enraged over the second marriage of their father, three sons of a retired head constable allegedly killed him with some sharp-edged weapons at his house in Tanda village of Nagrota today.
Grieving relatives of deceased former Head Constable Nazir Ahmed at their house in a village in Nagrota on Thursday. A Tribune photograph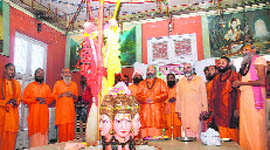 Chhari Mubarak leaves for Amarnath shrine
Srinagar, August 19
Chhari Mubarak (the holy mace of Lord Shiva), led by Mahant Deependra Giri, which left from the Dashnami Akhara building this morning reached Pahalgam along with a number of sadhus.

Prayers being offered at the Deshnami Akhara Temple in Srinagar on Thursday before taking the Chhari Mubarak to the Amarnath cave shrine. Photo: Amin War

Retrenched workers of Army depots hold protest
Jammu, August 19
Retrenched labourers of the Field Supply Depots of the Army held a demonstration in front of the office of the Divisional Commissioner, Jammu, today. They later submitted a memorandum of demands to the Divisional Commissioner. They warned that they would resort to extreme steps if they were not engaged again.
Township on Srinagar's periphery planned
Srinagar, August 19
Chief Minister Omar Abdullah today constituted a committee to identify suitable land on the periphery of the city for developing a modern township.
Mughal Road to be opened by October
Srinagar, August 19
The Mughal Road connecting the Kashmir valley with Rajouri and Poonch districts in Jammu division will be thrown open by October.
Sikh leaders concerned about situation
Srinagar, August 19
Sikh leaders have expressed concern about increasing reports of anonymous letters threatening members of the community being found at various places, including gurdwaras and residential houses, in the Kashmir valley.
Ferrying of bovines outside Udhampur prohibited
Jammu, August 19
To prevent illegal transportation of bovines for slaughtering, the District Magistrate, Udhampur, Baseer Ahmed Khan, has prohibited the ferrying of the bovines outside Udhampur district. The prohibitory orders have been imposed with immediate effect and shall remain in force for two months.
261 ReTs appointments cleared
Jammu, August 19
The state government has accorded approval for engagement of 261 fresh ReTs in various districts of the Jammu division.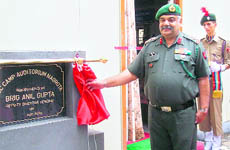 Auditorium for NCC cadets
Jammu, August 19
Deputy Director-General, NCC Directorate,J&K, Brig Anil Gupta today inaugurated the newly constructed multi-purpose hall-cum-auditorium at the NCC camp here. In his brief speech, Brig Gupta bestowed the NCC cadets with his valuable thoughts.

Brig Anil Gupta opens the newly constructed auditorium at the NCC Camping Ground in Nagrota on Thursday. A Tribune photograph

State Consumer Day celebrated
Jammu, August 19
To celebrate the State Consumer Day, the Consumer Protection Organisation today organised a function at Government College for Women, Gandhi Nagar.
Fellowship for dramatist Saraf
Jammu, August 19
A noted dramatist and writer of the state, Makhanlal Saraf, has been awarded a senior fellowship in the field of folk theatre in the category of folk tradition and indigenous arts by the Union Ministry of Culture.
20 hurt in mishaps
Jammu, August 19
Eight pilgrims of the Mata Machail yatra were injured in a head-on collision between a truck and a Qualis at Chennani in Udhampur district today.
720 kg poppy husk seized, two held
Jammu, August 19
The State Excise Department and the Kathua police seized 720 kg of poppy husk and arrested two alleged smugglers of Punjab at the Nagri toll post in Kathua district today.
Power shutdown today
Jammu, August 19
In order to carry out the shifting of a 33 KV line from the premises of residential houses near Shanti Nagar, Janipur, the power supply to Muthi, Barnai, Patoli, Nagbani, Domana, KC House, Muthi Gaon, Akalpur, Lale-Da-Bagh, Sangrampur, Patialachak, Falora, Nagbani School and its adjoining areas shall remain affected on August 20 from 7 am to 1 pm.