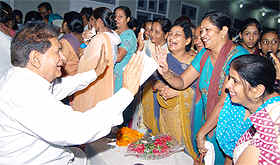 Warm welcome for comedy film star
Abohar, August 23
Hundreds of citizens thronged the Rajyoga Bhawan on the old Fazilka road here to greet Mehar Mittal, the 76-year-old, evergreen comedy star of Punjabi movies, as he stepped in to participate in the Raksha Bandhan function organised by the Brahmakumaris here today.
Fans greet Punjabi film comedy star Mehar Mittal during a function at Abohar. Photo: Raj Sadosh

ANMs to SMS daily progress to health dept
Bathinda, August 23
To monitor the daily progress of each health sub-centre and auxiliary nurse and midwife (ANM), the National Rural Health Mission (NRHM), Punjab, is providing mobile phones to about 5,000 ANMs and other officials in the state.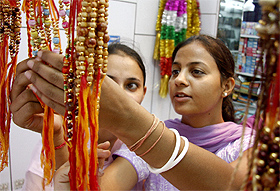 Thread of love

: Girls select rakhi on the eve of Raksha Bandhan in Bathinda on Monday. A Tribune photograph

23-yr-old girl goes missing, mystery remains
Bathinda, August 23
Mystery shrouds the disappearance of a 23-year-old girl of village Jangi Rana in this district.
Cracks in newly-built Fazilka railway platform
Fazilka, August 23
The construction of the railway line between Fazilka and Abohar is about to be completed. Most of the work is complete and necessary infrastructure on this track has been provided. The train could not be run on this route, as according to the official sources, a bridge over the Gang Canal, some 15 kilometers from here, has reportedly not been laid.
Swimming contest concludes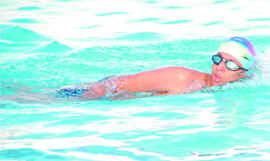 Sumant wins in under-17 category
Fazilka, August 23
Students of different schools participated in the two-day swimming competition which was held at the local Recreation Club. The programme concluded here on Sunday. Nearly 60 students took part in the competition.
A student participates in the swimming competition held at the local Recreation Club in Fazilka. Photo: Praful C Nagpal

Two killed in road mishap
Fazilka, August 23
Two persons including a woman were killed in a road accident near village Tiwana on the Fazilka-Ferozepur road in the head-on collision of two motorcycles. As per the information available, Sunil Kumar and Lalo Devi, residents of village Panjeke Uttar and Sudesh Rani, a resident of Fazilka, were on their way to Jalalabad while Angrej Singh and Surinder Singh were coming from the opposite direction.
Revenue official booked on graft charge
Bathinda, August 23
Acting upon a tip-off, sleuths of the Vigilance Bureau (VB), Bathinda, today caught a Kanungo of Faridkot red-handed while receiving graft. A case has been registered.
Seeking release of NREGA workers, labourers stage dharna
Bathinda, August 23
Activists of the Punjab Khet Mazdoor Sabha today staged a dharna in front of the offices of the DSP and the BDPO at Maur Mandi, demanding registration of a case against the persons, who had allegedly made a "murderous attack" on the NREGA workers at Ghuman Kalan village. They also demanded withdrawal of the case registered against the workers.
Raksha Bandhan, Onam celebrated by students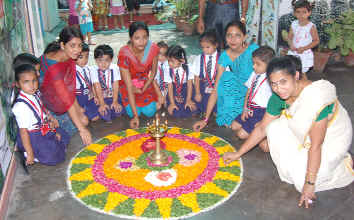 Abohar, August 23
Raksha Bandhan and Onam celebrations at St. Alphonsa Convent School here on Monday emerged as a real experience of unity in diversity. Principal Jijoe Augustian inaugurated the function. Traditional floral carpet with fresh flowers was prepared by the staff and the students.
Sharing the colours of joy: Staff and students giving final touch to a Pookkalam. A Tribune photograph

Social evils
Volunteers of NSS hold rally
Abohar, August 23
Vehicular traffic virtually came to a halt as the NSS volunteers from the DAV College here took out a rally to bring awareness on the social evils.