Taking cue from MPs, legislators to ask for more
Chandigarh, August 27
After the parliamentarians, it's the turn of Haryana MLAs to ask for more - allowances, perks, salaries et al. The legislators, especially those of the Congress, are busy building their case for a "better deal" ahead of the assembly session which begins on September 3.
Mahasabha: Khaps not behind honour killings
Calls for ban on live-in relationships, same-sex marriages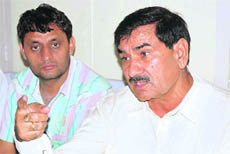 Karnal, August 27
The clean chit to khaps on the issue of "honour killings" by Chief Minister Bhupinder Singh Hooda notwithstanding, the khaps are under tremendous pressure to moderate their "social agenda" and are turning towards the youth for preserving the cultural heritage.

Akhil Bharatiya Jat Mahasabha chief Om Prakash Mann (right) talks to mediapersons in Karnal on Friday. Tribune photo: Ravi Kumar

Some relief; Yamuna water level down
Yamunanagar, August 27
Finally, after days of anxiety, people living in the low-lying areas of the state had some relief with the water level in the Yamuna at the Hathnikund barrage going down significantly.
Publisher accuses DEOs of unfair practice
Chandigarh, August 27
The Education Department continues to be bogged down by controversies around purchase of books for school libraries. Hardly a year passes when charges of irregularities are not hurled at its officials. This year is no exception.
HERC: Don't snap power to apartments
Gurgaon, August 27
The Haryana Electricity Regulatory Commission (HERC) has directed the power utilities not to cut the connections of the apartments which had not paid the bills of outstanding amounts sent to them till a decision was made.
Shifting of Dyeing Units
Owners seek Hooda's intervention
Panipat, August 27
The eight-year-old rift between local dyers and the HUDA authorities over basic facilities in Sector 29 (part II), which had been craved out in 2002 to shift dyeing units there to save the city from pollution, continues to remain unresolved.
ATM Fraud
Victim fails to get case registered
Karnal, August 27
A jurisdiction conflict between police officials of two districts is causing great harassment to a complainant.
Kidnap Case
Residents hold peace march
Panipat, August 27
The campaign started by Neena Gaba, mother of 10-year-old Tejas, who was kidnapped by some persons on the morning of December 12, 2008, has picked up momentum, with a large number of students, an NGO and prominent residents taking out a peace march in the city.
SCs rue delay in free water connections
Rewari, August 27
Over 350 Scheduled Caste families of Manethi village, 25 km from here, are sore over the inordinate delay by the District Water Supply and Sanitation Department in providing them free water connections under the Indira Gandhi Scheduled Caste Drinking Water Supply Project.
State to appoint yoga trainers
Sirsa, August 27
The Haryana Sports Department will appoint yoga trainers (volunteers) for the 119 administrative blocks of the state. They will get a monthly honorarium of Rs 1,000 per month. This is a part of the government's plan to promote yoga in the state. Minister of State for Home, Industries, Sports and Youth Affairs Gopal Kanda said camps had been organised to train the volunteers at the district level from August 23 to August 27.