After Saroori's sack, Soz loyalists target Dy CM
Jammu, August 27
By sacking Ghulam Mohammad Saroori from the state Cabinet, the Congress leadership has stopped its critics from further exploiting the CET impersonation issue. But the action has encouraged loyalists of Pradesh Congress Committee (PCC) chief Saifuddin Soz to train guns on Deputy Chief Minister Tara Chand.
Supporters hold demonstrations, protest his dismissal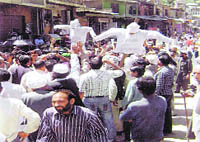 Jammu, August 27
Expressing their anger over the dismissal of their leader from the state Cabinet, supporters of the sacked Minister, GM Saroori, today held demonstrations at various places in Kishtwar district.



Supporters of the sacked Congress Minister, GM Saroori, protest at Chatroo town in Kishtwar district on Friday.
— A Tribune photograph

Congress also responsible for situation, says BJP
Jammu, August 27
To take stock of the party's district-level conferences and prepare its future plan of action in view of the prevailing situation in Kashmir, BJP state president Shamsher Singh Manhas chaired a meeting of senior leaders, state office-bearers, MLAs and morcha presidents here today.
Sawhney inspects rain-hit areas
Jammu, August 27
As directed by Deputy Chief Minister Tara Chand, Commissioner, Jammu Municipal Corporation (JMC), S.C. Sawhney along with Additional Deputy Commissioner D.R. Sharma and Executive Engineer (UEED) yesterday inspected various places wherein due to torrential rains, the water had entered into the households as well as lanes leading to damage to their properties.
On Omar's word, tanker owners call off strike
Jammu, August 27
Following an assurance from Chief Minister Omar Abdullah to provide foolproof security to Kashmir-bound oil tankers, the Jammu and Kashmir Oil Tankers Owners Association called off its strike this evening and agreed to resume normal supply from tomorrow.
Imbibe values of Sanskriteducation: Bhalla
Jammu, August 27
Minister for Revenue, Relief and Rehabilitation Raman Bhalla has appealed to students to adopt the values of Sanskrit education to build their character and create a congenial atmosphere in our social life.
Centre urged to act against TV channels
Jammu, August 27
Dr Agnishekhar, president of the Panun Kashmir, today urged upon the Central government to take appropriate steps against some electronic channels like "NDTV", "CNN" and "IBN" for their "subversive programmes" under the guise of discussions and discourses on the Kashmir issue unlike the objective, unbiased and true reporting of the print media at local and national levels.
Implement Hurriyat formula to normalise situation: Mirwaiz
Srinagar, August 27
Putting the onus of improving the situation in the Valley on the Centre, moderate Hurriyat leader Mirwaiz Umar Farooq today said it should expedite steps to implement the four-point formula and initiate tripartite talks for resolving the Kashmir issue.
VDC member kills brother of wife's paramour
Jammu, August 27
A village defence committee (VDC) member, Satpal, allegedly shot dead a resident of his area with his .303 bore service rifle in the Budhal area of Rajouri district today.
Rotary Club sends relief material for flood-hit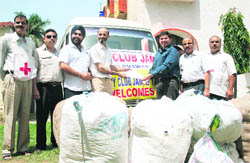 Jammu, August 27
The Rotary Club, Tawi, today handed over the relief material for the flood-hit people in Leh to the Red Cross Society.According to a statement issued here, this was the second consignment from the club for the flood-hit.Earlier the club had sent medicines, woollen clothes, blankets and utensils directly to the district administration, Leh.
Members of Rotary Club, Jammu Tawi, hand over relief material for Ladakh victims to the Red Cross Society in Jammu on Friday. A Tribune photograph

Vaishno Devi Shrine Board to provide 5,000 quilts to
Leh's flood-hit
Srinagar, August 27
Governor NN Vohra at a meeting with the Chairman, Ladakh Autonomous Hill Development Council, and T Angchok, Deputy Commissioner, Leh, today announced that the Shri Mata Vaishno Devi Shrine Board shall provide 5,000 heavy quilts for distribution among the flood-affected people of Leh.
Ill-effects of Tobacco
Media, NGOs can play vital role to spread awareness
Jammu, August 27
The media and NGOs can play a vital role to disseminate awareness among the masses about ill-effects of tobacco.This was stated by R.S.Chib, Minister for Health and Medical Education, while inaugurating a media sensitisation workshop on "Cigarettes and Other Tobacco Products Act (COTPA)".
Convene Assembly session, Harsh urges Governor
Jammu, August 27
Harsh Dev Singh, working chairman of the Panthers Party, has urged upon Governor NN Vohra to summon the Assembly session in view of, what he called, an ostensibly reluctant government disinclined to discharge its constitutional obligation of convening the session.
Transit hub for Army men opened
Jammu, August 27
The GOC-in-C, Northern Command, Lt-Gen BS Jaswal, today dedicated a newly created modern transit hub, the first of its kind in the country, to soldiers and their families at the Udhampur Military Station.
Licences of 17 bus drivers suspended
Jammu, August 27
Acting tough, the licensing authority has suspended the driving licences of 17 drivers plying passenger buses on different routes in the division.