Economy picks up steam
Grows by 8.8 pc in Q1
New Delhi, August 31
Driven by robust manufacturing, the Indian economy grew by 8.8 per cent in the first quarter of this fiscal, the fastest pace in around three years, despite partial withdrawal of economic stimulus packages.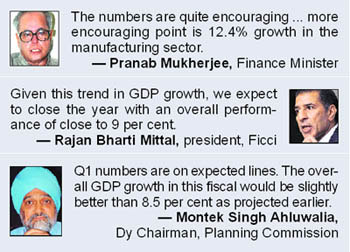 The growth numbers prompted some industry groups to forecast that the economy would revert to high expansion mode of 9 per cent in 2010-11, after two successive years of slowdown due to the impact of global financial meltdown.
Finance Minister Pranab Mukherjee exuded confidence that the economy would grow at least by 8.5-8.75 per cent during the current financial year.
Manufacturing, which bore the brunt of the slowdown that began in 2008-09, grew by 12.4 per cent during April-June, 2010, against 3.8 per cent in the same period last fiscal.
Agriculture and allied activities expanded by 2.8 per cent versus 1.9 per cent, according to the official data released today.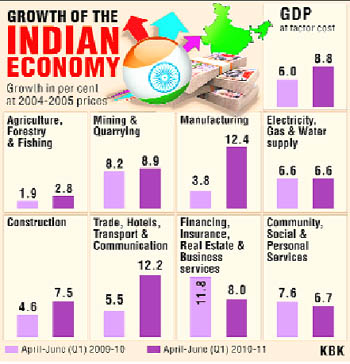 However, there are certain areas of concern, especially in the services sector, where growth rate moderated.
While finance, insurance, real estate and business services grew by 8 per cent during April-June this fiscal against 11.8 per cent in the same period last year, community, social and personal services expanded by 6.7 per cent against 7.6 per cent.
Despite partial withdrawal of economic stimulus packages, the growth rate at 8.8 per cent is highest since the last quarter of 2006-07, when the economy expanded by close to 9.5 per cent.
The numbers, however, failed to enthuse stock markets, since the growth rate fell below the expectations of 8.9-9.4 per cent pegged by many economists. BSE benchmark Sensex fell nearly one per cent to 17,869 points.
Assocham president Swati Piramal pegged the growth rate at 8.6-8.8 per cent.
Manufacturing, however, could slow this fiscal, Piramal said, adding that pressures are building on growth rate since manufacturing has not been doing too good of late.
Planning Commission Deputy Chairman Montek Singh Ahluwalia said although the growth rate of manufacturing sector is likely to be low during the rest of the year, the agriculture sector will register good performance. He pegged the growth rate at over 8.8 per cent this fiscal.
Meanwhile, economists said RBI would continue with tight monetary policy to check inflation in view of the strong economic growth.
"The economy will grow at 8.5 per cent for the full year," CII Director-General Chandrajit Banerjee said. — PTI
Consumer Price Index
Chandigarh: The all-India Consumer Price Index for Industrial Workers (CPI-IW) for the month of July, 2010, increased by 4 points and stood at 178. — TNS