PUNJAB
HARYANA
JAMMU & KASHMIR
HIMACHAL
REGIONAL BRIEFS
NATION
OPINIONS
LETTERS
BUSINESS
SPORTS
WORLD
Every Wednesday & Saturday
From the diary of a dead militant
Pak army, ISI officers visit PoK training camps
Srinagar, September 3
Before embarking on a journey to cross the Line of Control from the Uri sector to wage Jehad (holy war) against India in Kashmir, militants know full well that they will be killed, but they want the movement to continue.
Illegal mining damages railway bridge
Jammu, September 3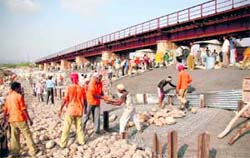 The Indian Railways, which has been at the receiving end for causing harassment and financial loss to commuters after cancellation of many trains due to the damaging of bridge no. 224 on Balol rivulet

Construction work under way at Balol Bridge near Bari Brahmana in Samba district. Photo: Inderjeet Singh
Unrest in Valley affects Ramzan celebrations
Srinagar, September 3
Separatists' shutdowns, curfews and restrictions imposed by the authorities here over the past three months have shown their impact over the way people used to make arrangements and purchases during the month of Ramzan.
Valley sees exodus of students
September 1, 2010
Winter fear stalks Leh
August 28, 2010
Lashkar down but not out
August 25, 2010
Board for concessions to Valley students
August 21, 2010
Pak desperate to push ultras into Jammu region
August 17, 2010
Pak desperate to push ultras into Jammu region
August 14, 2010
Independence Day is 'black day' in Kashmir
August 11, 2010
Turmoil: Contractors, daily wagers, pensioners bear the brunt
August 7, 2010
MC digs up trouble in Jammu
August 4, 2010
Fertiliser shortage worries Jammu farmers
July 31, 2010