Kurukshetra Zila Parishad chief's election postponed
Cong, INLD workers clash; Abhey booked
Tribune News Service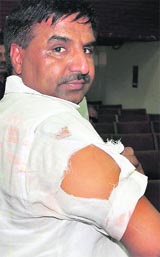 Kurukshetra District Congress president Jai Bhagwan Sharma shows his injuries. Tribune photos
Kurukshetra, September 4
The Kurukshetra Police today booked INLD Ellenabad MLA Abhey Chautala and 38 others for violence at the venue of election for the Kurukshetra Zila Parishad chairperson.
INLD and Congress workers came to blows outside the election venue, the Panchayat Bhawan here. Leaders of both parties got agitated when they were told that the poll had been deferred to September 6 as the returning officer had gone on leave. INLD workers started raising ant-government slogans and raised the pitch as soon as state INLD president Ashok Arora, Sher Singh Badshami, Abhey Chautala and others reached the venue.
Soon, Congress workers started raising pro-government slogans after the arrival of Shabad MLA Anil Dhantori, Kurukshetra District Congress president Jai Bhagwan Sharma and some other leaders and.
The situation turned tense and some INLD workers allegedly assaulted the Congress leaders. Jai Bhawan Sharma alleged that he himself heard Abhey Chautala instigate INLD workers to beat up Congressmen. He said that some INLD workers also tore his clothes.
Though police personnel were present at the spot, they did not intervene since INLD workers outnumbered them. Later, cases were registered against Abhey Chautala and 38 persons, including INLD leaders and workers, on the complaint of Congress leaders and they were booked under Section 120B, 506 and 323 of the IPC for conspiracy, criminal intimidation and causing hurt.
Kurukshetra SP Sultan Singh confirmed that Abhey Chautala and other INLD leaders had been booked. No arrests have been made so far.