Life remains affected in Valley
Srinagar, September 4
Normal life was adversely affected across the Kashmir valley in response to the separatists' bandh call today even as people came out in many areas to avail of bank facilities and purchase various things ahead of Id-ul-Fitre. Curfew was not imposed in any part of the Valley though preventive restrictions were in force in Anantnag and Pulwama towns.

As normal life was affected due to a bandh call by separatists in Srinagar on Saturday, a maize vendor awaits customers on the banks of the Dal lake. Photo: Amin War


156 flood victims given plots in Leh
Leh, September 4
The process of land allotment to the victims of the recent flash floods in Leh district, who were rendered homeless, began here yesterday. As many as 156 persons from the Zanagi Mani Colony in the Choklamsar area, which is one of the worst affected areas in the district, were allotted plots in the Solar Colony by the District Commissioner, Leh, Tsering Angchok. Dalai Lama to visit Choklamsar area on September 13

Army jawan, militant killed in encounter
Srinagar, September 4
An Army soldier and a militant were killed in an encounter in Bandipore district late last evening.
Tawi Bridge blocked over youth's murder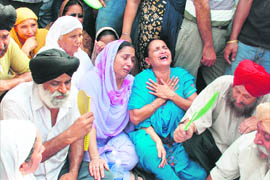 Jammu, September 4
Infuriated over the murder of a cab driver by some assailants in Nagrota yesterday, an angry mob, including family members and relatives of the deceased, placed his body at the Bikram Chowk and blocked the traffic on the Tawi Bridge for nearly two hours today.


Family members and relatives of the deceased cab driver wail at Bikram Chowk in Jammu on Saturday. Photo: Inderjeet Singh

2 Jammu teachers to get national award
Jammu, September 4
Teacher's Day will remain memorable for Shreshta Sharma and Abdul Rehman, who will receive the National Best Teacher Award, 2009, in Delhi tomorrow. President Pratibha Patil will present this prestigious award to them on the occasion of Teacher's Day.
Teacher's Day celebrated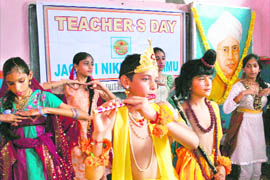 Jammu, September 4
The Buisness School of Bhaderwah Campus, University of Jammu, celebrated Teacher's Day on its campus today. Students of MBA and MA (English), besides faculty members of MBA, MCA and English, were present at the function. Rector, Bhaderwah Campus, Prof IA Hamal was the chief guest.


Students of Jagriti Niketan School perform during the celebration of Teacher's Day in Jammu on Saturday. Photo: Inderjeet Singh

Vacancies of doctor to be filled soon, says Chib
Srinagar, September 4
Minister for Medical Education RS Chib has said the government will soon fill 4,132 vacancies of doctors and paramedics, which have been lying vacant in various associated hospitals.
Top Hizbul militant held in Anantnag
He had left Kishtwar to escape being killed by security forces
Jammu, September 4
On the run to save his life from security forces in Kishtwar, a hardcore militant and divisional commander of the Hizbul Mujahideen, Firdous Ahmed Mattoo, aka Prince, was nabbed by the Anantnag police in Kashmir yesterday.
Army organises Iftaar party
Jammu, September 4
Under the aegis of the Chenab Brigade, the 3/4 Gorkha Rifles organised an Iftaar party at Mattu village in the Jourian area yesterday.
Sympathiser of militants nabbed
Jammu, September 4
Security forces arrested a sympathiser of militants from the Daggan Top area of Reasi district last evening.
Institute to start course on stress management
Jammu, September 4
The Jammu Institute of Ayurveda and Research is going to start a course on stress management in collaboration with Indira Gandhi National Open University (IGNOU).
Gang of sapphire smugglers busted, 11 arrested
Jammu, September 4
With the arrest of 11 persons, the Kishtwar police has busted an inter-district gang of sapphire smugglers.
Flesh trade racket busted, 3 held
Jammu, September 4
The police today busted a flesh trade racket in the Sainik Colony here and arrested a woman, a girl and a man while two girls managed to escape. "A flesh trade racket was busted in the Sainik Colony. At this stage, I can't divulge more details," said SSP, Jammu, Basant Rath.
Photo exhibition
Jammu, September 4
A photo exhibition, Sakshaatkar - an encounter with truth, will be organised by the Panun Kashmir in Jammu on September 5.