Sewage trouble in Amritsar
P.K. Jaiswar
Tribune News Service
Amritsar, September 4
The alleged negligence on the part of employees of Gammon India Limited, the company responsible for construction of ambitious elevated road, led to severe damage to underground sewerage and water supply pipes in Bakkarwana Bazaar inside Sherawala Gate here.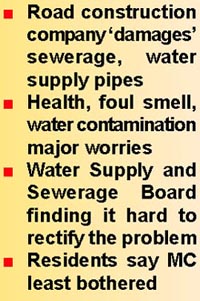 Now, the problem has aggravated to such a level that there is a severe blockage of sewage in many localities near the Golden Temple. And, moreover, the damage to pipes has led to contamination of water.
Importantly, that the Water Supply and Sewerage Board, it seems, is far from finding a solution to the problem.
The (Bakkarwana) bazaar is flooded with sewage, whose foul smell has made life hell for shopkeepers and residents.
Iqbal Singh Sherry, a Congress leader from the area, while criticising the authorities of the company alleged that they did not even bother to inform the Municipal Corporation or Sewerage Board officials after damaging the pipes while excavating the land.
Surinder Rana and Jagdish Singh, both residents of the area, alleged that the MC authorities were least bothered about the problems being faced by the inhabitants. They alleged the whole road leading to the Dharam Singh market was dug up by the company in order to lay the pillars for the elevated road, connecting the Golden Temple parking with the main elevated road.
"Instead they refilled the crater with the earth due to which the sewage entered into the residential complexes and contaminated the water supply," he said.
The affected areas were Jallianwala Bagh, Butt Malka, Dharam Singh Market, Bagh Ramanand, inside Sherawala Gate up to Mahan Singh Gate, all situated in the close proximity of the Golden Temple.
Navtez Singh, Xen of Water Supply Department, said they were trying to correct the problem for last four days, yet the problem of water contamination could not be rectified. "We are still on the job," he added.
Bhattarcharya, an official of the company, however, denied the charges saying that the employees of the Punjab State Power Corporation Limited had borrowed the JCP machine for digging up the land in order to lay the power cable. He said the company had nothing to do with the excavation of the land and damages to water and sewerage pipes.