Stone Throwing
14 youths arrested in Srinagar
Srinagar, September 8
The curfew which was imposed on Srinagar and parts of Anantnag district yesterday following the death of four persons in the Pattan area of Baramulla district on Monday continued for the second consecutive day today. Incidents of stone throwing were reported from different areas of the Valley today, though senior police officers described the situation as "by and large peaceful".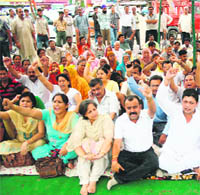 BJP holds anti-autonomy protests
Jammu, September 8
As a part of its campaign against the proposal of autonomy, the BJP today organised protests in 41 constituencies of the state, which were led by senior party leaders and local MLAs.





Activists of the BJP stage a protest at Gole Market at Gandhi Nagar in Jammu on Wedneday. Photo: Inderjeet Singh

Paddar sapphire mines a hub of smugglers
Jammu, September 8
Of course not an El Dorado anymore. As the successive governments have failed to exploit fully the potential of sapphire mines in Paddar, the unprotected area has become a fiefdom of smugglers.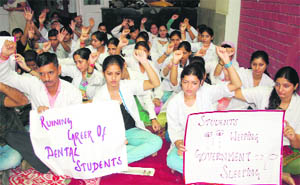 Students of Indira Gandhi Government Dental College protest against the derecognition of their batch by the Dental Council of India in Jammu on Wednesday. A Tribune photograph
Kishtwar police awaits FSL report
Jammu, September 8
After arresting 11 persons on September 3, the Kishtwar police is awaiting the FSL report to initiate action against the accused who have been booked under Sections 4/5 of the Sapphire Act.
Recruitment drive
59,000 apply for 2,800 police posts
Srinagar, September 8
Police personnel have been at the receiving end of the ongoing unrest in Kashmir for the past three months but that has not deterred nearly 59,000 youth of the Valley to apply for about 2,800 posts in the Police Department.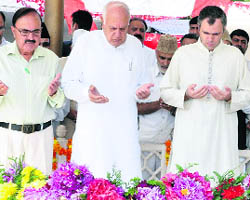 NC leaders remember Sheikh Abdullah
Srinagar, September 8
Rich tributes were paid to the founder of the National Conference (NC) and former Chief Minister Sheikh Mohammad Abdullah on his 28th death anniversary here today.


Chief Minister Omar Abdullah, Union Minister for New and Renewable Energy Farooq Abdullah and other leaders of the NC offer prayers at the grave of Sheikh Abdullah on his death anniversary in Srinagar on Wednesday. A Tribune photograph

Colleges may provide study material on websites
Jammu, September 8
To improve the standard of higher education, city colleges are planning to provide study material on their websites for the benefit of weak students.
Army renovates widow's house
Srinagar, September 8
The Army has come to the rescue of a widow by renovating her house and also providing her with necessary items.
7 militants shot dead
Srinagar, September 8
The Army gunned down seven militants in the ongoing encounter in the Gurez sector along the Line of Control (LoC) in north Kashmir today.
Basmati export centre sought at RS Pura
Jammu, September 8
The RS Pura Rice Growers Association today urged the government to set up a basmati export centre at RS Pura, besides a research and development institute.
Striking railway engineers hold rally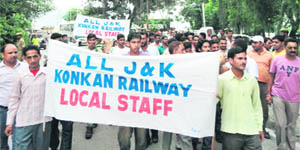 Udhampur, September 8
After the failure of talks with the Konkan Railway authorities mainly on the proposed employment of new staff for the prestigious Katra-Quazikund rail project, the All- J&K Konkan Railways Consulting Engineers Association today organised a rally here today even as their strike entered its 11th day today.

Konkan railway engineers hold a rally in Reasi on Wednesday. A Tribune photograph

Students, teachers felicitate headmistress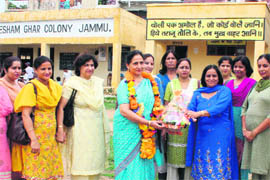 Jammu, September 8
Headmistress of Government Girls High School, Reshamgarh, Shreshta Sharma, was today felicitated by students and staff of the school at a function organised here today.



Staff members of Government Girls High School, Jammu, felicitate Shreshtha Sharma for getting the Best Teacher Award on Wednesday. Photo: Inderjeet Singh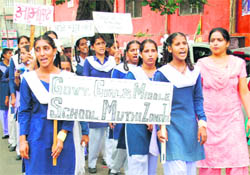 International Literacy Day
School students hold rally
Jammu, September 8
Students of various government schools today took out a rally to celebrate International Literacy Day.



Students of Government Girls Middle School, Muthi, take part in a Literacy Day awareness rally in Jammu on Wednesday. A Tribune photograph

Eye flu cases on the rise in Jammu region
Jammu, September 8
Due to a prolonged rainy season, many areas of the Jammu region have been in the grip of acute conjunctivitis or eye flu for the past several days.