Pak printers dishing out fake Afghan voter cards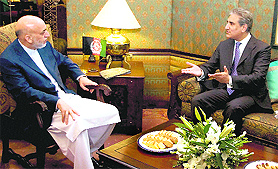 Pakistan's Foreign Minister Shah Mahmood Qureshi (R) talks to Afghan President Hamid Karzai during their meeting in Islamabad on Wednesday. — AP/PTI

Peshawar, September 15
Printers in this city near the Afghan border say they have produced thousands of fake voter registration cards at the request of Afghan politicians for use in that country's parliamentary elections on Saturday.
The cards, some shown to The Associated Press, add to evidence that fraud could undermine the elections and further destabilise the Western-backed government of President Hamid Karzai.
A fraud-marred presidential election last year threatened the credibility of the Afghan administration at home and with the Western nations waging war on the country's resurgent Taliban.
Regulation of voting has been improved, but an influx of fake cards raises the possibility of a person with multiple voter cards voting many times and could still cause problems in an insecure country where monitoring of polling stations will likely be spotty.
Three printers in a dimly lit section of Peshawar's Storytellers' Bazaar said Afghan election candidates had travelled to the walled heart of the ancient city about an hour from the border and provided them with samples of Afghan voter registration cards.
The printers said they had produced thousands of cards, along with plastic sheaths to laminate them, for roughly 20 rupees (23 cents) apiece.
The fakes shown to the AP resembled genuine Afghan cards, but it was not clear if they would withstand close scrutiny.
Two of the printers spoke on condition of anonymity because the activity is illegal. Tariq Khan, a 32-year-old printer, told the AP that times were tough for printers in Peshawar, and he had accepted the registration card requests because it was more profitable than ordinary work.
"Several candidates from various parts of Afghanistan have purchased these cards," he said. "Now it is their headache how they use them."
Afghan election officials say they have instituted safeguards that will keep falsified cards from being used. These include marking voters' fingers with indelible ink, searching voters to make sure they are not carrying multiple cards and checking to make sure they are old enough to vote. — PTI
Karzai arrives in Pak
Islamabad: Afghan President Hamid Karzai arrived here today on a two-day state visit during which he will discuss with Pakistan's top leadership a range of issues, including his fresh peace initiative with Taliban.
Pakistan's Foreign Office spokesman Abdul Basit said last week that Karzai will discuss his peace plan with Pakistani leaders during the visit. President Karzai was received at the Chaklala Air Base by Minister for Food and Agriculture Nazar Mohammad Gondal.
Both countries will explore ways to expand cooperation in different fields, to further strengthen their strategy against terrorism and to enhance cooperation in the political, economic and cultural fields, the Afghan embassy said.