It's about time we stopped holding women responsible for crimes committed against them. What they need is a fair trial, not a postmortem of their behaviour
Damned and condemned
Sajla Chawla
Crime, especially crime that can lead to the death of someone, needs to be punished severely. Our society really believes in this and adheres to it vehemently. But this universal belief seems to take a strange twist when it comes to crimes against women. If it is a high profile case, our society follows it religiously. We all try and look for answers and try to ascribe the blame somewhere or the other, without even knowing the facts of the matter or its essence.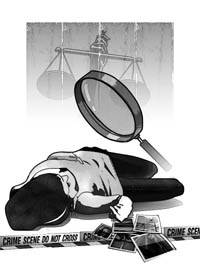 Something similar seems to have happened to the Nadia Torrado case in Goa, the Viveka Babaji case in Mumbai, the Jessica Lal case in the past and to mostly all the cases where women have died. The fact of the matter is that a girl has died and if anyone has committed a crime, it should be duly punished. But the paraphernalia of social norms that we all carry does not let the issue remain so simple. Whenever a woman is involved in a socially reprehensible situation, a crime done against her acquires a totally different connotation. While the accused is hounded before being proven guilty, so is the victim — the woman; and her background, her character, her demeanour, her social status, her past relationships, everything is brought out and published in newspapers and splashed on TV.
The ancient barbaric social evil of a witch-hunt does not seem to leave us. We love to ascribe blame, and we love to do it on women, especially if we can link the matter to her sexuality. It gives us all a sense of complacency that we are not ourselves in that situation and someone else is bearing the brunt of transgressing social, moral and patriarchal boundaries.
All over Europe in the middle ages and as recent as the nineteenth century, women who digressed from the beaten track, or did something socially amoral, or were educated or knew a lot about natural medicines or were extremely beautiful or had tremendous property or were too old to be productive in anyway — were branded as witches and burnt in the town's marketplace where the crowd cheered on in the most inhuman and barbaric way.
Women were often tortured to exorcise the evil in them and then killed for crimes that were uncertain, dubious and never proved. In India too, this practice still goes on in many villages and women are hounded by society such that they are driven out of their homes or killed.
In bigger, so-called educated and aware cities, we do not commit such barbaric acts. We do not kill. We take the dead and exhume them again and again. We bring out every minute juicy detail of their lives and we devote a great deal of social talk and gossip to it. Rather authoritatively, we claim that the woman was of low character or she was using her femininity or that she was of a dubious background. We love to hear how many affairs she had or how vain she was or how she was using the man. Well, while she was alive, none of us dared to air our moral considerations, when the deed was happening right before our eyes. But once dead, we love to flog the carcass. The question that arises is — why do we do that?
Society has strange ways of dealing with things that it finds problematic to put into slots. A woman who dies in a promiscuous relationship or is raped or murdered or commits suicide is seen as something which was not supposed to happen in a civilised, moral and ethical society. So we need to ascribe blame for the unfortunate incident on someone. And who could be better than the woman herself?
Very self righteously, we conduct a social trial, where we are all jurors and come to a conclusion that the woman was responsible for the crime done against her. It is easier for us that way because it is extremely difficult to question a whole society which drove a woman to her death. Facing that kind of stark reality is not what most of us have the courage for. We cannot think that we all as a society have a role to play if a young woman is killed or raped or kills herself. We want to sit in our comfortable smugness and not question our existing socio-cultural institutions, merely because we do not have the courage to.
When crimes happen all too often, especially crimes against women, it is because of the way our society has evolved and hence we all have to bear a collective responsibility for it. The particular victim or crime is just a symptom of the deep-rooted disease which is rampant in our society. Suppressing a symptom or finding a scapegoat to pile the blame upon is not going to cure the disease. We have to get at the root of it.
For this, society as a whole has to march towards a social change, for which we need proper legislation, implementation of laws, empowerment of women and change in social attitudes towards women. All this is a Herculean task and will obviously occur over a long period of time.
But the important point, and what we can start from today itself, is to stop turning the victim into a criminal. Whenever a crime is done against a woman, it simply needs to be punished like any other crime, without harping upon the woman's background or her past life or attitudes or morality. The trial is not about her character, it is about her death.
Be it the Scarlet Keeling case or the German minor rape case or the Nadia case or those innumerable unfortunate cases, where women have made wrong choices, need to be viewed objectively and if the crime is proven, it should be punished without a social and media trial of the victim herself. It is foolish to proclaim that the woman invited it. No one invites assault, rape or murder.
There is a distinct difference between committing a socially unacceptable deed and committing a punishable crime. We cannot put both on a par and club the victim with the criminal. If we keep ascribing blame on women for crimes done against women themselves, the criminal-minded men who commit such crimes would be emboldened and crimes would continue to happen.
And with what faith can a victimised woman go to society, the police or the legal system when she knows that approaching any of these is going to merely expose her to further ignominy and trauma? That is the reason most of the time women do not even report a crime done against them.
Moreover, let us for a moment stop judging these women, most of them very young, some of them even kids, naïve and perhaps misdirected. Isn't it more human to empathise than to judge? And who are we to judge after all?