Mahila Cong seeks safe environment for women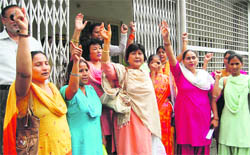 Dehradun, September 18
While raising slogans against the state government, members of the Mahanagar Mahila Congress Committee met the District Magistrate and apprised him about the atrocities meted out to women in the state. Leading the group, Mamta Gurang, former city president said the police tortured women and did not write their FIR.

Members of the Mahila Congress hold a protest in Dehradun on Friday. A Tribune photograph

Ganga Panchayat Issue
Uttarakhand Lok Vahini flays UKD
Dehradun, September 18
Castigating the Uttarakhand Kranti Dal's (UKD) decision to prevent the Ganga Panchayat from entering the state as unfortunate, Dr Shamsher Bisht, president (central wing) of the Uttarakhand Lok Vahini, said today such declarations were dangerous and might embolden the forces of disintegration to vitiate the atmosphere of the state.
Kailash yatra: Last batch returns today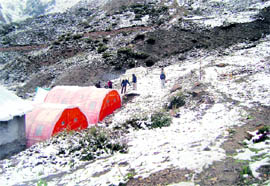 Pitthoragarh, September 18
The 16th and last batch of the Kailash Mansarovar Yatra, which will come back to India tomorrow, will have to travel nearly 9 km on fresh snow from the Lipulekh Pass to the Nabidhang camp as snowfall occurred in the area last evening. "The 17,500-ft-high pass received snowfall of 1.5 ft last evening and the adjoining areas of Kuti received 5 cm snow while Zoling has 10 cm snowfall," said ITBP source based at Mirthi Didihat.

A snow-clad mountain on the Kailash Mansarovar Yatra route in Pitthoragarh district on Saturday.

BJP has failed to deal with rain disasters: Cong
Dehradun, September 18
State Congress workers today staged a dharna against the state BJP government's failure to deal with rain-linked disasters here today. Deen Mohammed, president of the District Congress Committee, gathered at the Gandhi Park, where they staged a dharna against the state government. The workers accused the state government of completely failing in disaster management.
Kailash Mansarovar project report soon
Pitthoragarh, September 18
The feasibility report on three-nation environment project on the Kailash Mansarovar region is almost complete and will be finalised in December when the preparation committee, including forest officers of all three nations, meet in Kathmandu. Dr Ranvir Rawal, scientist with GB Pant institute at Almora, who led the five-member Indian delegation to Chengdu city of China in this connection from September 4 to 6, on his return, said.
'Second phase of census to be completed by
Dehradun, September 18
The second phase of the census, known as Population Enumeration, started last week in snow-clad districts of Uttarkashi, Chamoli, Rudraprayag and Pitthoragarh. This was stated by Uttarakhand Census Department Deputy Director Dashrat Singh here today.
Hiding of Yarsa Gumba
No evidence found against suspended cops: SP
Pitthoragarh, September 18
No prima-facie evidence has been found of hiding any quantity of Yarsa Gumba by policemen at Jauljibi Thana. Three policemen have been put under suspension after residents accused them of hiding some of the quantity of the herb and showing less out of the total amount recovered by the police last week. This was stated by Superintendent of Police (SP) Neeles Anand Bharene yesterday.
Food and Supplies Dept faces staff crunch
Dehradun, September 18
The routine of inspection drives in the district has been adversely affected due to the insufficient number of inspectors in the Civil Food and Supplies Department. According to sources, there are only 15 inspectors, out of the 27 sanctioned by the government across the district, who are responsible for the inspection of 900 shops.
Contractual ayurvedic docs to hold meeting today
Pitthoragarh, September 18
Annoyed over government's advertisement for commissioned medical officers in the Ayurvedic Department before confirming contractual doctors already working in the department for the past three years, the Uttarakhand Ayurvedic-Homeopathic Medical Officers (Contractual) Association has decided to chalk out a strategy to fight for their rights.
Statehood Activist Status
Deadline extended to September 30
Nainital, September 18
The deadline for people in the district wanting to get them identified as statehood activists has been extended up till September 30. According to District Magistrate Shailesh Bagauli only the applications received till September 30 will be entertained and these will be scrutinised by October 15.
Farmers eye lucrative broccoli crop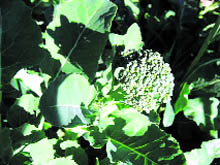 Haridwar, September 18
When the fast food easing slowly into our regular diet regimen and replacing nutritious and natural food on our dining table, vegetable such as broccoli can be the much-needed nutrient provider if it is eaten on a regular basis. It's not only beneficial for people eating, but also lucrative for farmers who grow it in their fields, as broccoli, in comparison to other vegetables, is in great demand among health freaks as well as in restaurants and five-stars hotels.