Kumaon faces shortage of commodities
Roads connecting the Pindari, Kafni and Sunderdunga glaciers have been blocked for almost a month
Nainital, September 13
Extensive damage caused to the road network in Kumaon has led to a shortage of essential commodities at several places. People residing in remote areas continue to face a shortage of food grains and liquefied petroleum gas (LPG) along with kerosene.
Subhash Kumar takes charge as Chief Secy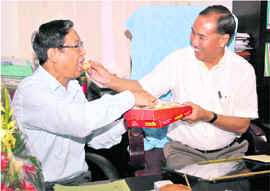 Dehradun, September 13
Newly appointed Uttarakhand Chief Secretary Subhash Kumar assumed office in Dehradun today in the presence of outgoing Chief Secretary NS Napalachayal, who greeted him at the start of the new innings. Subhash Kumar is the eighth Chief Secretary of the state.
Subhash Kumar (right), new Chief Secretary, offers sweets to NS Napalchayal, outgoing Chief Secretary, in Dehradun on Monday. A Tribune photograph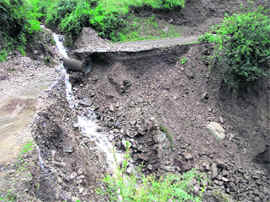 Govt misleading rain-hit farmers: Cong
Mussoorie, September 13
The state government is under severe criticism over delay in providing relief to villagers affected by recent incidents of flash floods and cloudburst in villages of Jaunpur block in Tehri district. Minister Khajan Das in particular has drawn flak from various sections of society for his failure to provide timely relief to the victims of such calamities.
A damaged road in Jaunpur block in Tehri district.
Ministerial Collectorate employees seek amended staffing pattern
Dehradun, September 13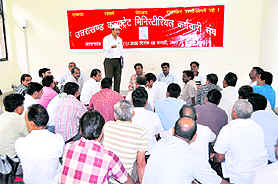 Agitated over the staffing pattern in the Collectorate Office, workers of the Uttarakhand Ministerial Collectorate Employee Union held a protest in front of the Revenue Department here today. All employees of the tehsil as well as the Ministerial Collectorate Department gathered outside the department and protested against the state administration.
Uttarakhand Collectorate Ministerial Employees Union members hold a protest in Dehradun on Monday. A Tribune photograph

Dilapidated buildings on Haridwar MC radar
Haridwar, September 13
With several dilapidated buildings caving in this rainy season, questions are being raised over Municipal Committee's (MC) working regarding decade-old buildings coming under its purview. Last evening a century-old building at Pahadi Bazar in the Kankhal area collapsed.
Vigilance tightens noose on ex-adviser to CM
Dehradun, September 13
The noose of Vigilance Department is tightening on Yogender Prasad, former Adviser to Chief Minister and former Chairman of Uttarakhand Jal Vidyut Nigam Limited (UJVNL), for being allegedly involved in extending favour to an outsourcing company, Cavit, by giving it mechanical and civil and other works of hydro power projects worth Rs 252.795 lakh when he held his twin positions a few months ago.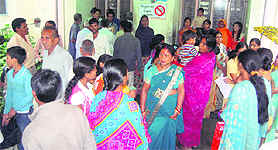 Pharmacists boycott work for 4 hours
Dehradun, September 13
Pharmacists working in different government hospitals, community health centres and primary health centres boycotted work today for four hours all across the state in support of their demands.
People wait for medicine at the Doon Hospital on Monday. A Tribune photograph

Alva opens Raj Bhawan website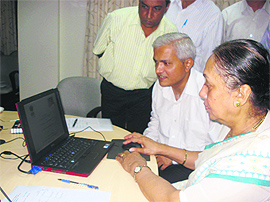 Dehradun, September 13
Ushering in greater transparency, Uttarakhand Governor Margaret Alva today inaugurated a website of Uttarakhand Raj Bhawan (governoruk.gov.in) that will keep people informed about the activities undertaken by the Governor, details about her political career spanning several decades, landmark speeches delivered by her and history of Governor houses located at Dehradun and Nainital.
Governor Margaret Alva opens the website of the Raj Bhawan in Dehradun on Monday.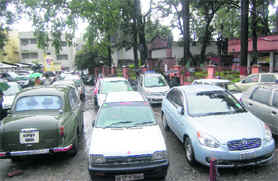 Parking blues for court complex visitors
Dehradun, September 13
Parking continues to be a pain for the common people visiting the District Court complex that houses the courts, Collectorate Office, SSP's office and the state Consumer Forum.


Vehicles parked in the District Courts in Dehradun on Monday . A Tribune photograph

Team brings banana tree for Nanda Devi fest
Nainital, September 13
A team dispatched to Aam Padav village located at a distance of about 20 km from here to bring back a banana tree for making idols for the Nanda Devi Mahotsava returned to the town with pomp and show.
Minor girl alleges rape
Dehradun, September 13
A minor girl was allegedly raped on the promise of marriage by a resident of Shyampur, Rishikesh, several times.
Bomb hoax at park
Dehradun, September 13
Tension gripped the Gandhi Park area when an abandoned school bag was found lying there late this evening.