SHO in soup over lapses
Chandigarh, September 13
The Police Complaints Authority (PCA) today issued a notice to the Sector 3 police station SHO for lapses in investigation of a road accident case in which two cousins were crushed to death by a speeding car last month. The notice, asking the SHO to appear before the authority on October 4, has been sent following a complaint filed by HC Arora, state president of the RTI Activists Federation, Punjab.
GMCH-32: No CT scan report even after 14 days
Chandigarh, September 13
In a case of negligence, the Government Medical College and Hospital, Sector 32, failed to issue a CT scan report of a patient for 14 days, leaving the patient in the lurch. The report, which is usually prepared within 24 hours, was not released even today despite repeated requests to the authorities concerned by the father of the patient.


'Green Gandhigiri' to sensitise residents about environment
Chandigarh, September 13
Adopting an innovative technique to grab the attention of city residents, nearly 500 students from Panjab University, local colleges and schools will be spotted at various traffic lights on September 16, celebrating the World Ozone Day.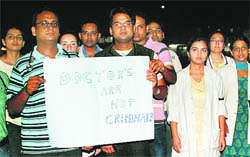 Doctors stage a protest outside the entrance gate of the GMSH, Sector 16, in Chandigarh on Monday. A Tribune photograph
Insurance Cover for Firemen
MC prepares draft for claims
Chandigarh, September 13
The demand of 261 firemen of the fire and emergency department of the Chandigarh municipal corporation to bring them under insurance cover is set to be fulfilled soon with the corporation preparing a draft for disability and medical claims.
Work on service roads begins today
Zirakpur, September 13
The long-pending work to lay the service roads on both sides of the stretch of National Highway-21, between the UT barrier and the starting point of the flyover on the Chandigarh-Ambala highway, will begin tomorrow. The road had developed several potholes and trucks are often parked in a haphazard manner on the stretch.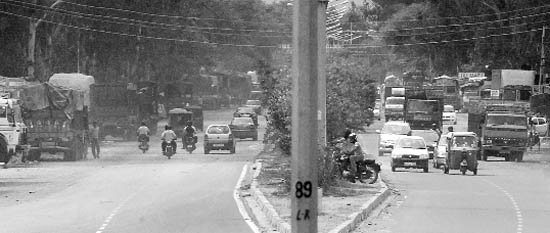 A file photo of the Chandigarh-Ambala road on National Highway-21.
MC looks for dumping ground site
Zirakpur, September 13
The Zirakpur municipal council is looking for 4-acre land for a dumping ground. The proposal has been mooted after the Punjab drainage department and local administration strictly ordered to the council not to throw garbage and solid waste along the Sukhna choe in Bishanpura village.
Naunihal takes over as SSP today
Prerna Puri to be Joint Secy (Home)
Chandigarh, September 13
With the joining of 1997-batch IPS officer Naunihal Singh tomorrow, Chandigarh is set to get a new SSP, while IAS officer and SDM (South) Prerna Puri will be the new Joint Secretary (Home).
Western Command to celebrate 63rd anniversary
Chandigarh, September 13
Western Command headquarters will celebrate its 63rd Raising Day at Chandimandir military station this week. A host of events are being organised to commemorate the anniversary.
Many BSNL numbers out of order
Mohali, September 13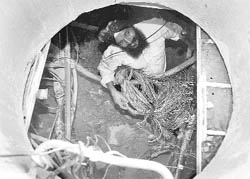 "Efficiency" of the Punjab circle of the Bharat Sanchar Nigam Ltd (BSNL) to shift around 5,000 telephone numbers from the telephone exchange in Phase X to two other telephone exchanges in over two years, one in Phase XI and the other in Sector 70, is proving to be a headache for hundreds of telephone subscribers in Mohali.


A BSNL employee repairs a fault in the underground cable near the Phase X exchange. Tribune photo: Vicky Gharu
SC vacancies: Admn urged to clear backlog
Chandigarh, September 13
The Chandigarh SC and BC Employees Welfare Association has demanded the clearing of backlog of appointments and promotions belonging to the reserved categories in various departments of the Chandigarh administration.
Parking of vehicles outside clubs banned
Mohali, September 13
The district administration has banned the parking of vehicles on footpaths outside marriage palaces, hotels and clubs, failing which legal action will be taken against managements of these establishments.
Sewage treatment plant faces power crisis
Mohali, September 13
Power crisis is looming large over the city's first sewage treatment plant near Manauli village here. For the last few days, the power supply to the plant has been erratic.
GMADA to start helpline numbers
Mohali, September 13
For the convenience of the applicants for Aerocity, the Greater Mohali Area Development Authority (GMADA) today decided to open helpline numbers so that the applicants could get their names or any other information rectified, if required. The size wise and category data of the applicants for Aerocity was yesterday uploaded on GMADA's website.
Cop deposes in Nari Niketan case
Chandigarh, September 13
Deposing before the court of Additional District and Sessions Judge GC Garg in the Nari Niketan rape case, head constable Usha stated that she had once found used condoms outside the Nari Niketan. She added that she didn't report the matter to her seniors but had informed the superintendent of the institute.
Fire at Kiran Theatre
Chandigarh, September 13
A minor fire was reported at Kiran Theatre, Sector 22, following a short-circuit in electricity wires near a generator this evening.
Former MLA cremated
Mohali, September 13
The mortal remains of Basant Singh, former MLA, Anandpur Sahib, were consigned to flames at the Mohali crematorium here this evening. The ex-MLA was nephew of Late Giani Zail Singh, former President of India. He died yesterday after prolonged illness.
(Top left) Railway Station Unplugged: A man helps his grandson get off an engine, reflecting lapses in security at the Chandigarh railway station on Monday.


(Top right) Stray dogs have a field day and (bottom) a letter box with a broken lock; and non-functional LCDs at the Chandigarh railway station. Tribune photos: Manoj Mahajan

Evaluation System
CBSE to increase parents' involvement
Chandigarh, September 13
Going a step ahead of seeking feedback, the Central Board of Secondary Education (CBSE) has now decided to increase parents' involvement in its ambitious continuous and comprehensive evaluation (CCE).
PEC SCAM
CBI finds ` 1 crore in Dr Nishikant's bank accounts
Chandigarh, September 13
The sleuths of the Central Bureau of Investigation (CBI) found Rs 1 crore in the bank accounts of Dr Nishikant, the alleged mastermind behind the fraudulent admission of 11 students in the PEC University of Technology, Sector 12, here under the scheme of Direct Admission of Students Abroad (DASA) by submitting fake documents.
CBSE to launch virtual labs soon
Chandigarh, September 13
If all goes well Central Board of Secondary Education (CBSE) may soon be launching its first virtual laboratories for students to enhance the practical aspect of school education.
Counselling sessions for teachers, students
Chandigarh, September 13
In a bid to strengthen student-teacher relationship at government schools in the city, the education department will organise special counselling sessions to be jointly attended by teachers, students and parents.
PUSU sweeps executive panel election
Chandigarh, September 13
In yet another crucial victory, candidates of the Panjab University Students Union (PUSU) won four out of five seats in the executive panel election held here today.