Moily hits out at CAG
Says top audit body has not fulfilled its obligations
Girja Shankar Kaura
Trubune News Service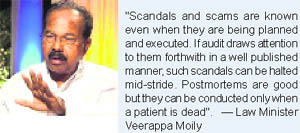 New Delhi, September 13
The working of country's top audit body, Comptroller and Auditor General (CAG) came in for strong criticism from the government today as Law Minister Veerappa Moily said that the timely intervention of the organisation could have prevented many scams and scandals.
Moily, who was addressing the fifth annual convention of Central Information Commission (CIC) here, also slammed former Chief Vigilance Commissioner Pratyush Sinha for calling every third Indian utterly corrupt.
Moily said, "Scandals and scams are known even when they are being planned and executed. If audit draws attention to them forthwith in a well published manner, such scandals can be halted mid-stride. Postmortems are good but they can be conducted only when a patient is dead".
The Law Minister while being critical of the top audit body categorically stated that it has not fulfilled its obligations.
He said the institution of Comptroller and Auditor General, a Constitutional body itself designed to be a bulwark against omission and commissions of the Executive under the supervision of the Legislature has not fulfilled for what it was conceptualised by the Constitution makers.
Moily also took the opportunity to criticise bureaucrats who retire from service and make "discrediting" remarks about the country when they were abroad.
Without naming former Chief Vigilance Commissioner Pratyush Sinha, he said, "When few top officials who could have made a difference in office... having failed to do so, become saints after retirement. When I was abroad recently, I came across the comments of a retired bureaucrat who said in a media interview that every third Indian is corrupt".
Terming such remarks as "travesty of truth", Moily, without naming the senior retired official, said, "No one has the right to discredit our nation".
"You cannot hurt national pride saying things that are not at all true," Moily said. "I don't want to name any one, he is a senior official, anyone who says such things is wrong," he said.
Sinha, who retired as India's Central Vigilance Commissioner last week, was reported to have said that the worst part of his "thankless job" was observing how corruption had increased as people became more materialistic.
"There would be around 30 percent who would be utterly corrupt. But the rest are people who are on the borderline," he had said in an interview to a newspaper last week.
Meanwhile Moily urged Department of Personnel and Training authorities to look into such "frustrated statements" made by the former civil servant.
Incidentally, the appointment of PJ Thomas as the new chief vigilance commissioner has also come under a cloud with allegations being made that he had bagged the post at the behest of Congress president Sonia Gandhi.
Expressing concern over the killing of RTI activists across the country, he said such acts should be dealt with "iron hands".
Moily said, "The RTI should not become the casualty of corrupt bureaucrats and others. It is quite disturbing to hear the threat administered to RTI activists."